International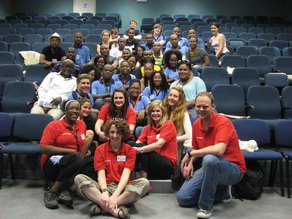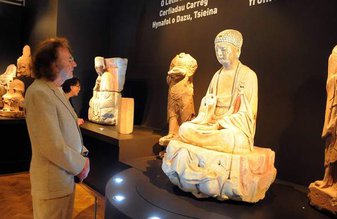 World Collections
The objects in museums' collections tell stories about people, places, nature and thought. The stories told by these objects, brought to life by study and display, help more easily explore common themes and threads through history and relate those to the present day. Some of the most comprehensive and internationally important collections of natural history, ethnography, technology, art, literature and design are held by UK museums - and so these world collections tell world stories.
UK museums have a long history of working in partnership overseas and continue to do so to maintain their pre-eminence. However, this activity can have a wider impact beyond the cultural output. Museums have a role in economic growth and investment, cultural exchange, the preservation of memory and the exploration of identity, and diplomacy.
NMDC's paper, World Collections, illustrates the breadth of museums' international work and explores its wider impact. Download the paper here.
UK museums are involved in a huge range of projects and partnerships with organisations all over the world.  International activity includes:
Loans and touring exhibitions
Partnership working to share skills and expertise
Joint research and conservation projects
Contributing to cultural diplomacy - building relationships with organisations in countries where formal government relations face challenges
Involvement in international showcase events such as expos and biennales
Working with artists, schools and communities
Providing advice to organisations establishing new museums, or improving existing facilities.
 
Three British Council research reports have demonstrated the value of international cultural activity, particularly that involving museums, to trade, tourism and diplomacy. Influence and Attraction, As Others See Us and Culture Means Business illustrate the importance of a vibrant cultural sector which welcomes audiences across the world.
NMDC responded to the call for evidence to the 2013 House of Lords Inquiry into the UK's soft power, outlining the contribution museums make. Read the NMDC submission here.
UK museums share their experience, knowledge and expertise with other museums and cultural heritage organisations across the world. As the UK museum sector has a world-class reputation, their skills and expertise are in demand from organisations worldwide who are looking to re-develop museums or create new institutions. This publication by UK Trade and Investment (UKTI), Making Museums Work, outlines some of the remarkable projects UK museums have been partners in.
Download Making Museums Work
Working Internationally
NMDC works with a range of partners across the museum sector to support museums' international work and share experiences. The annual Working Internationally Conference is one way in which NMDC does this (in partnership with ICOM-UK). After the 2013 Working Internationally Conference, the Association of Independent Museums produced this helpful guide to working internationally.
Download the Success Guide
In 2016, the British Council commissioned confidential research into the fees charged, costs incurred and economic models of international touring exhibitions. A detailed report is available on the ICOM-UK website, along with presentations from a seminar aimed at assisting those who had limited experience of touring exhibitions overseas. https://uk.icom.museum/resource/international-touring-exhibitions/
British Council India travel grants
In 2014, NMDC worked with IWM and the British Council to distribute a series of travel grants to UK non-national museums to support the development of museum partnerships with Indian counterparts. Successful applicants include: Horniman Museum and Gardens, Ancient House Museum of Thetford Life, Bowes Museum, Ironbridge Gorge Museums, Museum of Oxford, Pallant House Gallery and Llandudno Museum.