Museums Matter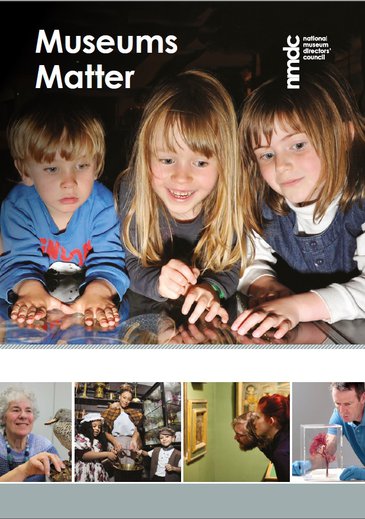 Museums Matter illustrates how public investment in museums of all sizes and scope enables them to contribute to eight key public policy priorities across the UK:
creating a thriving, vibrant and diverse cultural life for the nation;
contributing to regional prosperity;
developing tourism – museums are the country's most popular visitor attractions;
strengthening the UK's soft power;
developing peaceful and prosperous communities by creating safe and welcoming community spaces;
promoting health and well-being;
education, life-long learning, skills development and apprenticeships;
being world leaders in scientific, technological and creative innovation.
The document describes how museums are uniquely able to make such a significant impact because of their collections, their buildings and the expertise of their staff.  It argues that museums preserve, promote and protect one of the few irreplaceable public assets, the nation's heritage, which is fundamental to maintaining a healthy and prosperous civil society.
Pulling together a wide range of evidence and case studies from across NMDC's membership, Museums Matter demonstrates that the UK's museums are more popular, innovative and internationally respected than they ever have been, and provide a substantial return for the public investment they receive.  
Download the full document here.

Download individual sections of Museums Matter as single page briefings:
Download Museums Matter infographics as PDFs: