Jobs
Details: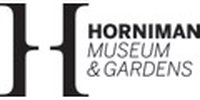 Location:
SE London
Category:
Education

Salary:
£22,360 pa pro rata (£22,816 after probation)
Contract type:
Contract
Permanent
Hours:
Part time
Telephone:
020 8699 1872
The Horniman Museum and Gardens in south east London has been open since Victorian times, when the tea trader and philanthropist, Frederick John Horniman first opened his house and extraordinary collection of objects to the local community. Since then, our collection has grown significantly and includes internationally important collections of anthropology and musical instruments, as well as an acclaimed aquarium and natural history gallery – all surrounded by 16 acres of beautiful Gardens offering breathtaking views across London.

The Horniman provides learning experiences for a diverse range of visitors, including schools, families, and community groups, using our spaces and a Handling Collection of over 3500 objects. We are looking for a Learning Assistant to support the smooth running of these programmes and the Learning department; through greeting and orientating school and family groups, preparing spaces and resources, and liaising with staff from multiple departments.

You will be experienced providing excellent customer service to a diverse range of visitors, including schools and families, in a museum or similar setting. Your outstanding communication and organisational skills will help you deal with multiple priorities, in a calm and flexible manner. You will enjoy working within a team and taking initiative independently, to deliver a high quality Learning service.

To apply, visit our website: www.horniman.ac.uk/about/jobs

The closing date for completed applications is 10am on Monday 21 January 2019. Interviews will be held on Monday 4 February 2019.

The Horniman is committed to equality of opportunity and welcomes applications from all sections of the community.
Museum Website: http://www.horniman.ac.uk/about/jobs