Diane Lees FMA FRSA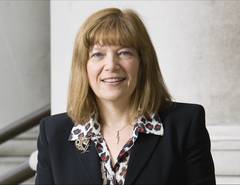 Director-General - Imperial War Museums
Diane was appointed Director-General of the Imperial War Museums in October 2008. She leads on the Museums' international programme and the cultural festival for the First World War centenary.
Before joining IWM Diane was Director of the V&A Museum of Childhood at Bethnal Green. Diane had a specific brief to transform the Museum and create a sustainable future for this east-end site; she also chaired the V&A's UK Steering Group.
Diane has a degree in history and is currently studying for her masters. Diane began her career as an historic buildings researcher moving into exhibitions, education and interpretation. Diane has worked on some of the most challenging and exciting projects in the country, including the rescue and relocation of a hat block manufacturer's workshop in central Manchester, the recovery and display of the Mary Rose flagship in Portsmouth Harbour and redisplay of the Nelson Galleries at the Royal Naval Museum. Diane project-managed the creation of the UK standard for the recording of information about museum collections (SPECTRUM) and was responsible for the creation of the only museum of law in the country, the multi-award winning Galleries of Justice in Nottingham.
Diane is a Trustee of the IWM Development Trust, The Gerry Holdsworth Special Forces Trust, Army Museums Ogilby Trust and a Vice President of the American Air Museum in Britain. She is also a key member of South Bank and Bankside Cultural Quarter Directors forum, Women Leaders in Museums Network (WLMN) and the Arts Council's external advice panel. Diane is also a judge on the Museums + Heritage awards.
Diane was elected as Chair of the NMDC in April 2013.
Back to list of NMDC members