NMDC's event and exhibition highlights 2018
NMDC's event and exhibition highlights 2018
A selection of highlights from the programmes of NMDC member museums and galleries for 2018.
Beamish – The Living Museum of the North
Pedal Power
24th March & 25th March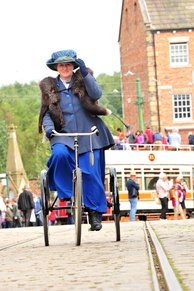 From tricycles to bicycles, dentist drills to sewing machines, sheep shearing machines to penny farthings, there will be amazing contraptions driven by pedals on display throughout the site, with opportunities for the public to try them out.
Empire and Flag Days
19th - 20th May
Beamish is telling the story of Flag Days, as part of its First World War commemorations. Flag days were held to raise money for causes including soldiers on the front line, prisoners of war and for disabled servicemen. Combined with Empire Weekend, this event will include a grand parade of around 1,500 young people representing youth groups and organisations around the region.
Wind in Your Sails
5th - 8th July
Hands-on activities for children focused on Science, Technology, Engineering and Mathematics.
Dig for Victory
30th August - 2nd September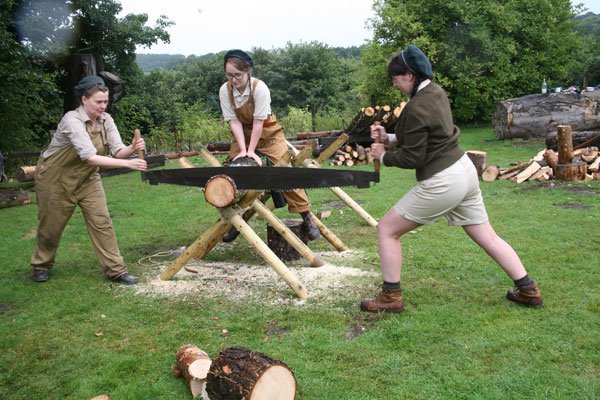 Lumberjills at Beamish
An event recreating life on a 1940s farm. Visitors can look at and join in with activities telling the story of the war effort, including learning to drill with the Home Guard, meeting Land Girls and Lumberjills and dancing with a swing band.
Bristol Museums, Galleries and Archives
Museums at Night: Trying it on
16th May
Bristol Museum & Art Gallery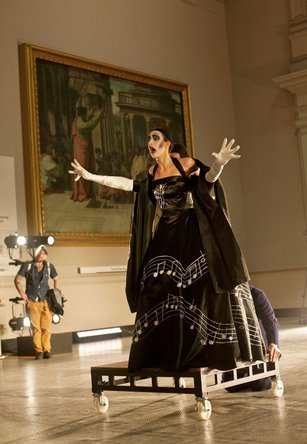 Trying it on, courtesy of Bristol Museums With performances created by one of the UK's leading choreographers, Lea Anderson MBE, this Museums at Night event will feature stunning costumes by award winning designers. Based on notions of identity, class and gender, this is an opportunity to catch outstanding performances, explore the whole museum, enjoy a drink, encounter surprises and pay a visit to the Grayson Perry exhibition.
Votes for Women 100
30th June
Bristol Museum & Art Gallery
Celebrating the centenary of votes for women with a day of film screenings, performances, talks, walks, children's craft activities and opportunities to meet local women's history experts. There will be a screening of Make More Noise: Suffragettes in Silent Film and UWE drama students will perform the short play How the Vote was Won, written by Cicely Hamilton in 1913 to support the women's suffrage campaign. There will also be a contemporary panel discussion on what the vote has done for women and opportunities for visitors to discover how to do their own suffrage research. A 'Voting Booth' by Dreadnought Southwest will tell stories about local pioneering women.
Grayson Perry: The Vanity of Small Differences
31st March—24th June
Bristol Museum & Art Gallery
Six large tapestries exploring the British fascination with taste and class by one of the UK's best-known and best-loved artists – Grayson Perry. Inspired by Hogarth's morality tale, A Rake's Progress, Perry's tapestries follow the socially-mobile life of fictional character Tim Rakewell from infancy to untimely death. Crammed with acutely observed detail, these beautiful, ornate pieces invite us all to think about our own attitudes to class and the structure of our society as a whole.
Bristol Music: Seven Decades of Sound
19th May—23rd September
M Shed
Bristol is one of the UK's key 'music cities' in the twenty-first century. Its emergence as a national musical hub since the 1950s has incorporated a rich mix of styles, genres and sounds. The creation of these musical cultures has been driven not only by artists and producers but crucially by the people of Bristol. Using stories contributed by people from all over the city, this exhibition takes memories of attending gigs, festivals and clubs, and charts the history of music in Bristol with its host of internationally influential musicians, infamous venues and multitude of sounds.
BBC Woman's Hour Craft Prize
7th July – 2nd September
Bristol Museum & Art Gallery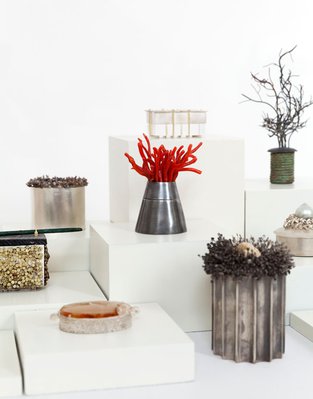 Including the most impressive and creative craft practice in the UK today, this exhibition from the V&A marks the 70th anniversary of BBC Woman's Hour. Twelve finalists have been selected for their originality and excellence in concept, design and process.
Through huge hand woven willow structures, darned high street hoodies and bespoke bicycles, to unfired clay installations, futuristic glass figures, and jewellery made with 18th-century pins found in the mud of the river Thames, the finalists explore issues ranging from our consumer culture, to the decline of UK manufacturing, to geopolitics.
African Textiles
30th June – 19th May
Bristol Museum & Art Gallery
See a beautiful part of BMAG's collection of modern and historical African textiles. From the huge embroidered Nigerian agbada's to Ghana's 'royal' kente cloth and political kangas from Kenya and Zimbabwe, the exhibition will show woven, embroidered, dyed and printed pattern, both traditional and modern. The designs, colours and patterns are complemented by personal back stories.
British Museum
Rodin and the art of ancient Greece
26th April –  29th July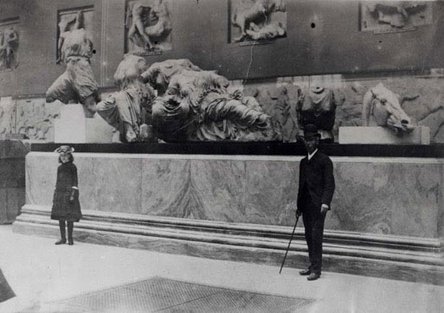 The Parthenon gallery in the British Museum, about 1890. Photograph. c. The Trustees of the British Museum In collaboration with the Musée Rodin, the British Museum will present works by Auguste Rodin and explore how he admired the art of antiquity – particularly ancient Greece - above all others. Auguste Rodin was one of the greatest and most innovative sculptors of the modern era. He took his inspiration, in large part, from the works of Phidias who carved the sculptures on the Parthenon. Rodin regularly travelled to London and visited the British Museum to sketch and seek inspiration.
The exhibition will provide a new opportunity to focus on the Parthenon sculptures as individual works rather than as part of an ensemble and understand the extent of the influence of the art of antiquity on Rodin and his contemporaries. Visitors will be able to appreciate the full breadth and depth of Rodin's unique vision and extraordinary achievement as a sculptor.
Charmed lives in Greece: Ghika, Craxton, Leigh Fermor
8th March – 15th July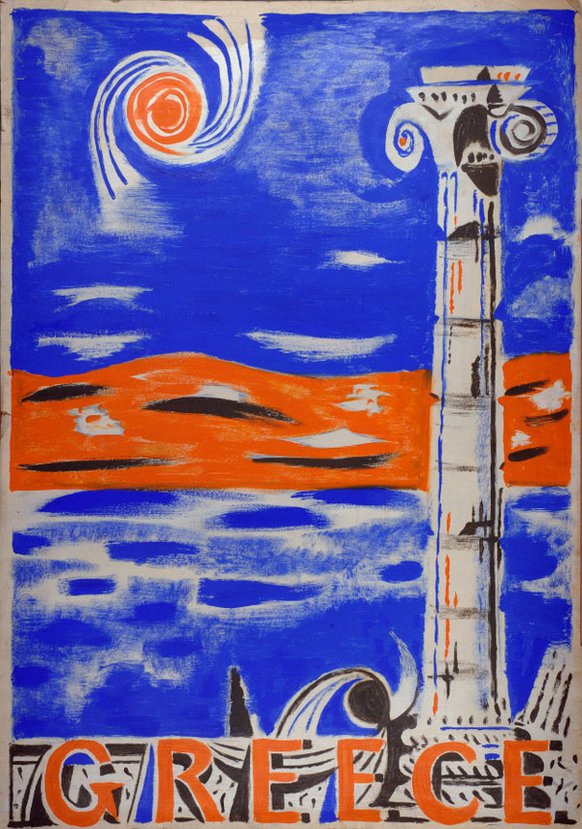 Nikos Hadjikyriakos - Ghika (1906 - 1994), Study for a poster. Tempera on cardboard, 1948. Benaki Museum - Ghika Gallery, Athens. c Benaki Museum 2018. This exhibition centres on the friendship of the artists Nikos Ghika (1906-1994) and John Craxton (1922-2009) and the writer Patrick Leigh Fermor (1915-2011). They first met at the end of the Second World War and spent much of their subsequent lives in Greece. Their shared love of the Greek world led to lasting friendships and contributed to a golden age of Anglo-Greek artistic and literary collaboration. This exhibition explores the influence on their work of their encounters with the people and landscapes of Greece, particularly at one another's houses on the islands of Hydra, Crete and Corfu, and in Kardamyli in southern Greece. The resulting paintings, drawings, photographs, letters, manuscripts, books and personal possessions are used to trace their lives and their creative careers.
Just Breathe – mass meditation
19th March, 7-9.30pm
Just Breathe's eighth mass meditation and mindfulness event will take place under the spectacular glass roof of the British Museum's Great Court – the largest covered public space in Europe.
The Grand Gathering will be an evening of conversation, live music and performance, and an introduction to modern mindfulness and meditation. In keeping with the space, and as spring arrives the night will also be a celebration of Light.
Cornwall Museums Partnership
Titanic Stories
8th March – 7th January 2019
National Maritime Museum Cornwall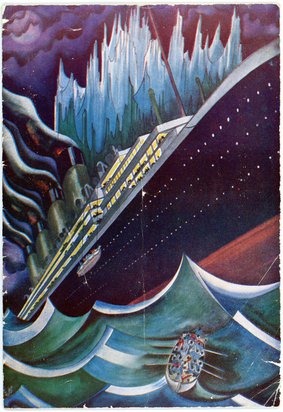 This major new exhibition will examine the stories of the sinking of the Titanic on 15th April 1912, reappraising many of the myths, controversies and assumptions that still linger around one of the most well-known events of the 20th century.
Working in collaboration with private collectors from overseas and national museums in the UK, the exhibition presents rare and never-seen-before objects, as well as telling the personal stories of many of the survivors, victims and descendants, including those from Cornwall. It also explores the commodification of the tragedy, including postcards produced days after the sinking, and the many films and documentaries inspired by the event.
Derby Museums Trust
The Art of Industry: From Joseph Wright to the 21st Century
24th March – 17th June
Exploring the interwoven histories of art and industry this exhibition examines the way that artists view industry and, conversely, the way that Industry portrays itself. The exhibition charts the change in the artists' viewpoint from depicting industrial buildings set in sublime landscapes to picturing them as 'dark satanic mills', technological power houses reaping havoc on the natural world. Over the last 300 years since the birth of the Industrial Revolution artists have been fascinated by industry and people who work in it. Joseph Wright's An Iron Forge painted in 1772 and in the collection of Tate, returns to Derby for the first time since the 18th century.  Other artists whose work is exhibited in the exhibition include Ford Madox Brown, L. S. Lowry, Graham Sutherland and Sir Edwardo Paolozzi.
Agatha Christie: Mysteries, Murder, Marple and more
2nd June – 3rd November
Pickford's House
Drawn from a private collection of books, objects, artwork and ephemera relating to the life and works of the world's best-selling crime author, this tribute to Agatha Christie explores the mysteries that she wrote and those relating her own life.
Visitors can solve their own murder mystery by finding clues hidden around the house.
This was Derby
10th March – 12th May
Pickford's House
Drawing from Derby Museums' extensive collection of paintings, drawings and prints of Derby this exhibition is a great chance to reminisce about the changing face of the city. Since Alfred Goodey gave Derby Museum one of its largest ever donations of images of Derby in the 1930s, the museum has been collecting.
Horniman Museum & Gardens
World Gallery
Opening June 2018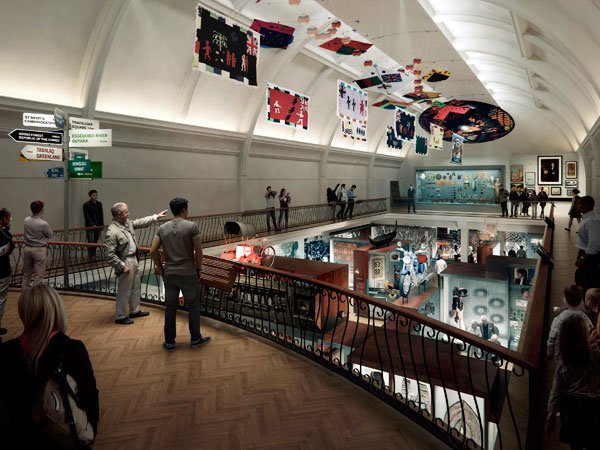 Design for the new World Gallery, courtesy of the Horniman Museum
3,000 objects from the Horniman's internationally important anthropology collection are going on display in a new World Gallery which opens this summer. Presented as a series of encounters with cultures from across the continents, the gallery will be a celebration of human creativity, imagination and adaptability, and will give visitors a glimpse into other ways of understanding the world.
The project has included the re-introduction of daylight into the gallery space and will be complemented by a summer programme of free events, special planting in the Horniman Gardens, and the opening of a dedicated Studio later in the year.
Image:
World Gallery at the Horniman Museum and Gardens. Planning and design by Ralph Appelbaum Associates.
International Year of the Reef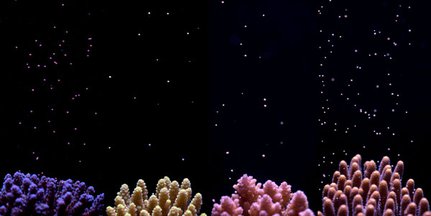 Throughout 2018 the Horniman will be celebrating the International Year of the Reef with a programme of displays and special events. These will showcase the beauty and diversity of coral reefs around the world and highlight their value to the species that depend on them.
The Horniman Aquarium has been leading on pioneering coral reproductive research as part of Project Coral, and was the first institution globally to purposefully reproduce broadcast coral in captivity. Find out more about International Year of the Reef.
Ironbridge Gorge Museum Trust
Coalbrookdale School of Art Exhibition
Coalbrookdale Gallery
21st March - 21st December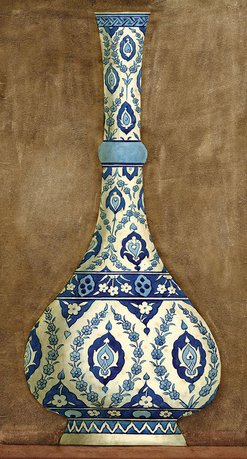 This exhibition will explore the story of the Coalbrookdale School of Art, the artists and the artwork that came out of the school. Schooling Good Taste - The Coalbrookdale School of Art, 1856-1924 will showcase original design work and objects from the Coalbrookdale Company, Maw & Co and Craven Dunnill & Co, currently held in the Ironbridge Gorge Museum's Library and Archives.
Themes of style, taste and design movements will be explored, covering the broader story of Victorian aesthetics.
International Garden Photographer of the Year Exhibition
3rd May – 17th September
The International Garden Photographer of the Year exhibition (IGPOTY) is returning to the Fusion Gallery, adjacent to Jackfield Tile Museum as part of its worldwide tour.  Showcasing the beauty and importance of a green planet, IGPOTY continues to be the world's most prestigious global photography competition for garden, plant and botanical photography. It's open to all ages, amateurs and professionals alike, with a Young Garden Photographer of the Year award for under 17s.
Leeds Museums and Galleries
Thomas Chippendale, 1718-1779: A celebration of British craftsmanship & design
9th February – 9th June
Leeds City Museum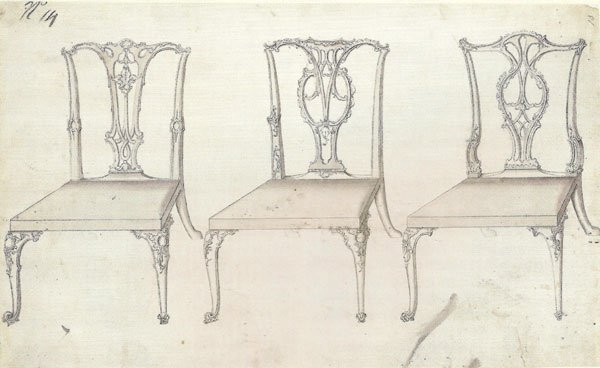 Chairs c. The Chippendale Society
This exhibition explores the life, work and legacy of Thomas Chippendale. Born in Otley in 1718, he made his name in London with his exquisite designs and entrepreneurial spirit. His beautiful designs and quality of his workmanship made Chippendale one of the most sought-after furniture makers of the 1700s. From his humble roots he went on to work in some of the greatest and most fashionable houses in the country.
The exhibition will explore how Chippendale rose to such prominence, celebrate the quality of his work and consider his legacy since his death in 1779. It will display objects from his early life, alongside beautiful hand-drawn designs and some of the best examples of his work, many on public display for the first time.
Beer: A history of brewing and drinking
24th March – 28th Oct 2018
Temple Newsam House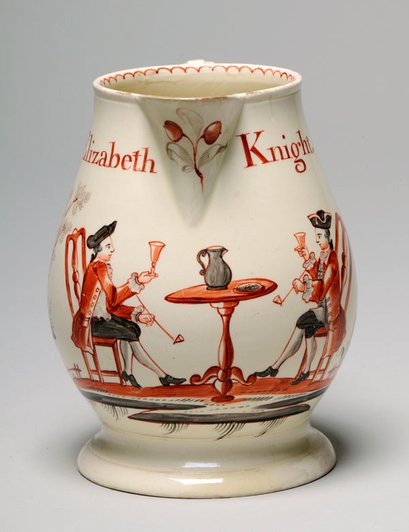 Beer jug. Courtesy of Leeds Museums
'Beer' explores the history of Britain's first national drink, while also telling the story of life on Temple Newsam Estate through the eyes of the people who lived, worked, brewed and drank there.
Beer was a key part of celebrations where the estate community came together, from military victories to weddings. At a time when water was often contaminated, beer offered a safe alternative and was even used to treat some ailments. The display includes spectacular ceramics from Leeds's important collection. A programme of events will be on offer throughout the estate, including tasting sessions.
Himalayan Fashion
23rd March – 26th Oct 2018
Lotherton
The museum worked with the World Museum Liverpool, Leeds Nepalese Community Association and Harewood House to create a stunning exhibition of Himalayan fashion in a country house setting. 
Clothes range from sumptuous silk brocades to geometric Dhaka cotton weaves, fine Kashmir wool shawls and rainbows of block printed prayer cloths.
Queens of Industry
Until 29th Sept 2019
Leeds Industrial Museum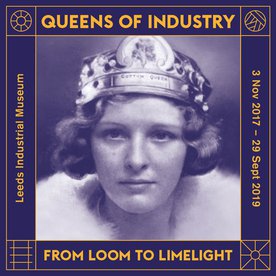 'Queens of Industry' celebrates the lives of women in industry from the early 20th Century to today. It reveals the untold stories of the working class 'queens' elected to represent some of Britain's greatest industries, from coal to cotton. These young workers' lives were changed forever, with opportunities to star on screen, meet political figures like Joseph Stalin, and become a female voice for their industry. This exhibition was inspired by the story of Doreen Kerfoot, a weaver from Batley, who became Yorkshire Wool Queen in 1948. Find out more about Doreen and meet the queens of industry from the 1920s to the 1980s.
National Archives
Suffrage 100 - Archives at night: Law breakers, law makers
18th May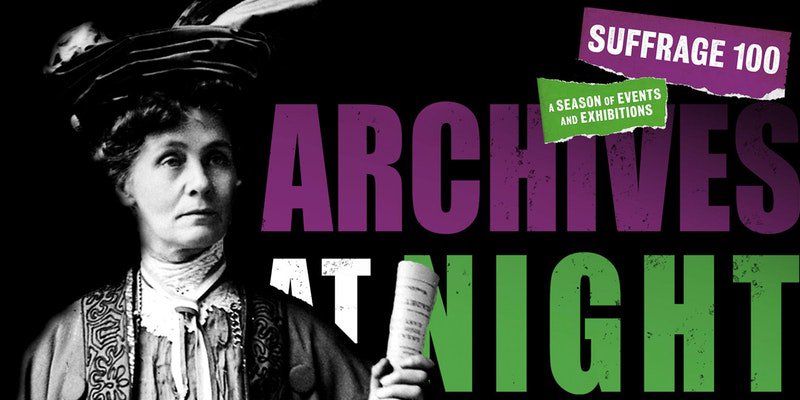 The National Archives offers a night of suffrage celebration, entertainment and jiu jitsu.
On 6th February 1918, 8.4 million women gained the right to vote. The Representation of People Act (1918) was an unprecedented step towards gender equality in Britain. But it hardly came about peacefully. For the Archives at Night event in May, the Archive is pulling stories from its collection that chart the course of the suffrage movement in the early 20th century: protest, militancy, and the outbreak of war on a global scale. Events include Naomi Paxton on jiu jitsu, period music, suffrage themed photobooths and a chance to uncover suffragette ancestors with FindMyPast.
National Army Museum
Special Forces: In the Shadows
17th March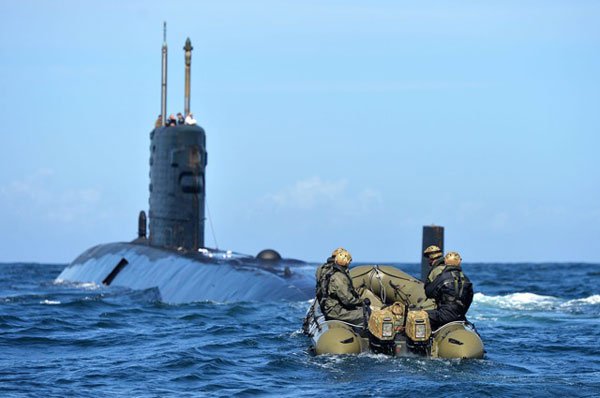 Courtesy of the National Army Museum
This major exhibition will present ideas of security and secrecy through the lens of Special Forces. It will explore what these elite regiments are, the training and skills required and examples from operations around the world over the past 70 years.
Objects on display will range from the compass that Paddy Mayne wrenched from an enemy plane cockpit, to a complete SAS Counter Terrorist Kit from 2007. There will also be personal testimonies, video and photography. Interactives will help visitors understand the challenges and competencies required of soldiers, including Kims (a game which develops the capacity to observe and remember details) and skills in life or death decision making.
Inspired by Civilisations: Object Journeys
13th March 2018, 11am
As part of the Civilisations Festival, the National Army Museum is offering a hands on guide to some of its collection items. The event will explore some of the physical journeys collections have been on and how our understanding of objects have changed. There will be conversations about identity, beauty, innovation, ingenuity and cultural values.
Researching women and the military
9th March, 2pm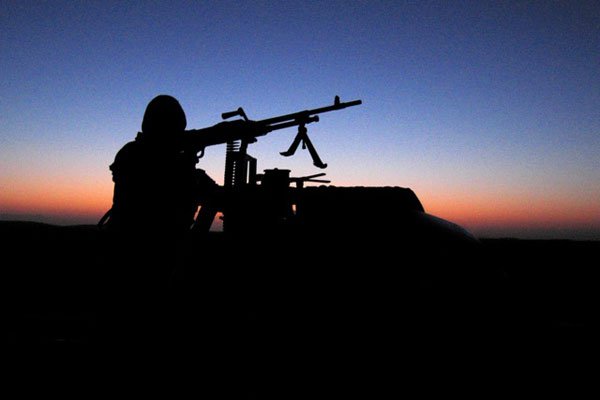 Courtesy of the National Army Museum
An afternoon exploring current research on women and the military around the world.  NAM's mini research symposium on women and the military takes place on International Women's Day and develops the museum's work from last year, exploring the centenary of the founding of the Women's Army Auxiliary Corps. Historians from around the UK will present their current research on women and the military.
Operation Telic, 15 years on
16th March, 11.30am
15 years after they began, Brigadier (retired) Ben Barry discusses UK operations in Iraq and Afghanistan, known as Operation. Barry will explain why success often proved elusive as a result of failings in strategy, tactics and military adaptation. Finally, he will discuss the lasting impact of these difficult wars on the UK armed forces.
Jungle survival skills
30th March – 15th April
A family friendly workshop, teaching participants how to survive in the jungle and how to face rain, creepy crawlies and endless forest. An Easter holidays activity.
National Museum of the Royal Navy
Tattoo: British Tattoo Art Revealed
25th June - December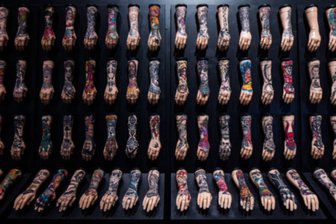 100 hands landscape by Luke Hayes Courte Tattoos have a long tradition with the Royal Navy and this exhibition is a genuinely ground-breaking and comprehensive history of British tattooing. It will be the largest gathering of real objects and original tattoo artwork ever assembled in the UK.
Silent and Secret
Opening 15th June (tbc)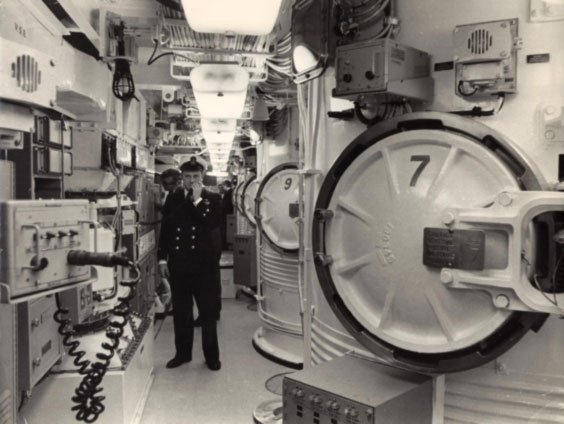 Courtesy of the National Museum of the Royal Navy
15th June 2018 marks the 50th Anniversary of HMS Resolution, the Royal Navy's first Polaris SSBN (Submersible Ship Ballistic Nuclear), commencing her first operational patrol. This new exhibition will focus on personal accounts and key objects at the Royal Navy Submarine Museum, and will explore the history of the British nuclear at sea deterrent. It will reveal the challenging nature of working in submarines, highlighting the experiences of those who serve and exploring why the UK has a nuclear deterrent.
Shipyard by Lachlan Goudie
17th March  - 10th June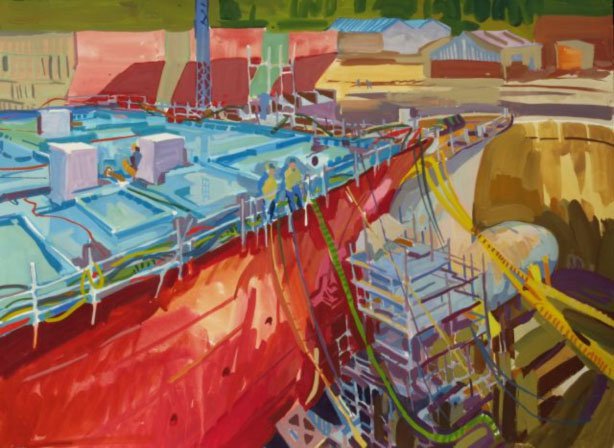 Lachlan Goudie, At work in Rosyth
For the last seven years, Scottish artist Lachlan Goudie, who was a contributor on BBC's Big Painting Challenge, has been sketching and painting in the BAE shipyards on the Clyde and Forth. Having grown up on the Clyde, his imagination was captured by the ships, and his paintings illustrate their build, from both a technical and naval angle.
Goudie has painted 50-60 paintings of the Type 45 destroyers and the monolithic Queen Elizabeth Class aircraft carriers. With the much-heralded arrival of HMS Queen Elizabeth into her home port at Portsmouth, the new exhibition of contemporary artwork captures Lachlan's personal view of these engineering titans.
National Museums Liverpool
Tales from the city
Museum of Liverpool
Until late 2018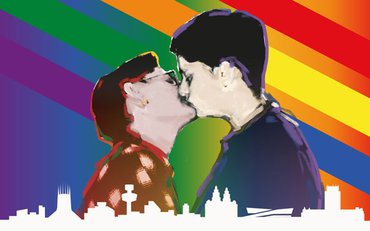 This exhibition marks the 50th anniversary of the 1967 Sexual Offences Act with stories from Liverpool's lesbian, gay, bisexual and trans (LGBT+) community over the past five decades. It reflects how the lives and experiences of Liverpool's LGBT+ community have changed from 1967 to 2017. Individual stories are told through a mixture of objects, costume, art, photography, film and oral history interviews. The exhibition also explores the impact of national events such as Section 28, civil partnerships, marriage, age of consent equality, and equal adoption rights.
The Blind School: Pioneering People and Places
Museum of Liverpool
26th January to 15th April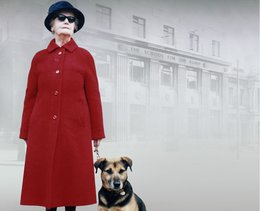 This exhibition tells the story of Liverpool's Royal School for the Blind, the first school for blind people in Britain and the second in the world. It explores what life was like for the pupils of the school over its 227 year history as well as describing the design and location of the different buildings that housed it. The exhibition features unique objects, spoken stories and a film made with visually impaired and blind students from St Vincent's School.
This is one of three exhibitions curated by History of Place a national project which explores 800 years of disability history through eight different sites around the UK. This is an accessible exhibition, with audio description, Braille, British Sign Language interpretation, and multisensory features. 
National Museums Scotland
Wildlife Photographer of the Year,
until 29th April 2018
National Museum of Scotland
100 extraordinary photographs explore the beauty, diversity and fragility of life on Earth. For more than 50 years Wildlife Photographer of the Year has showcased the very best in nature photography from around the globe. It features photographs displayed on large-format, backlit panels, showing some of nature's most astonishing and challenging sights The exhibition is on tour from the Natural History Museum.
Rip it Up
From 22nd June 2018
National Museum of Scotland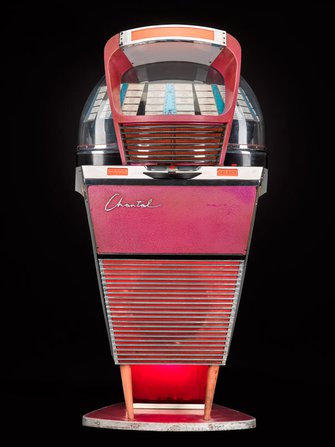 Spanning a period from the 1950s to the present day, 'Rip it Up: The Story of Scottish Pop' is the first major exhibition ever mounted on this topic. It will take in diverse movements from dancehall to the emergence of pop in an explosion of colour in the 60s, through the 70s and New Wave, from global stars right up to today's outstanding newcomers.  The exhibition features instruments, costumes and clothing, memorabilia, props, photographs and music as well as interviews and archive footage collated in partnership with BBC Scotland. Featured bands and artists include Lonnie Donegan, Gerry Rafferty, the Sensational Alex Harvey Band, Lulu, The Rezillos, Midge Ure, Simple Minds, Garbage, Franz Ferdinand and Young Fathers. A three-part BBC TV series along with BBC digital and radio content will bring another dimension to the story through the voices of those who made the music, those who witnessed it from behind the scenes, and the fans who lived for it.
Fashion Forum: Design for Diversity
2nd – 9th February 2018
National Museum of Scotland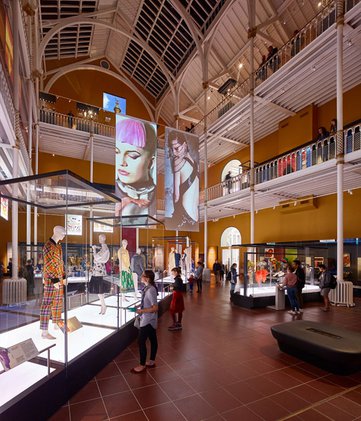 Fashion Galleries at the National Museum of Scotland
How can the fashion industry celebrate everyone? This programme of events explores new, inclusive approaches to fashion, focusing on design which enhances self-esteem and fully reflects diversity. Curated by the Diversity Network, speakers include fashion journalist and broadcaster Caryn Franklin MBE and pioneering designers Teatum Jones.
The Diversity Network is a collaboration between Edinburgh College of Art and All Walks Beyond the Catwalk, an initiative challenging the fashion industry's dependence on
unachievable and unhealthy body ideals. Edinburgh College of Art, Heriot-Watt University and Robert Gordon University School of Creative and Cultural Business will host a series of public events, all with the goal of creating a healthier culture of communication for the fashion industries. 
Norfolk Museums Service
The Square Box on the Hill
Norwich Castle
10th February – 12th June
This exhibition will explore the history of Norwich's iconic and much-loved 'square box on the hill'. It features never-before-seen archives and artefacts from Norwich Castle's 900-year history, including a wealth of new research uncovered by the Norwich Castle: Gateway to Medieval England project to transform the Keep. Built as a royal palace, Norwich Castle was a Norman showpiece with lavishly-decorated interiors fit for a king. By the 14th century, it had become the County Gaol confining Norfolk's prisoners within its walls. With the opening of the new prison at the end of the 19th century, the Castle's fate was uncertain, until its conversion into a public museum, which it remains to this day. The exhibition explores its identity as palace, prison and museum, with artefacts including a Japanese Samurai suit of armour, 1970s draught bitter, fine medieval jewellery and graffiti etched in stone.
Oxford University Gardens, Libraries and Museums
America's Cool Modernism: O'Keefe to Hopper
Ashmolean Museum
23rd March – 22nd July 2018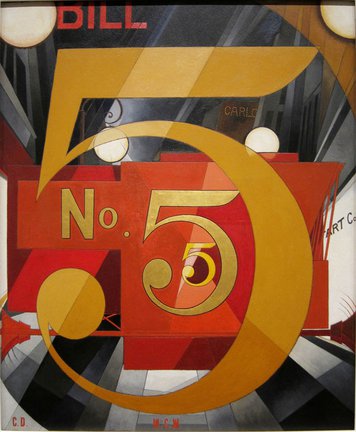 Charles Demuth, I Saw The Figure Five In Gold, 1928 This will be the first exhibition to explore the 'cool' in American art in the early 20th century, from early experiments in abstraction by artists like Georgia O'Keeffe, Arthur Dove and Paul Strand to the strict, clean precisionist paintings of Charles Sheeler and Charles Demuth.
Showcasing significant examples of American art produced during the roaring 1920s and Depression-era 1930s, some for the very first time in the UK, the works on display share a smooth, crisp, clean appearance and a cool, impersonal treatment, an apparent detachment. They evoke a world in which human beings have been removed or substituted.
Live Friday: American Cool
Ashmolean Museum
25th May
This Late is an immersive look at 1930s America, from the Roaring Twenties through to the end of the Great Depression. It gives audiences an opportunity to explore the America's Cool Modernism Exhibition, discover the glamour of 1930s Hollywood alongside the American rural farmstead, and enjoy hidden speakeasy bars, southern Hoedown live bands, a 1930s' photobooth, swing classes and silent film screenings.
Settlers: Genetics, Geography and the Peopling of Britain
Oxford University Museum of Natural History
9th February – 16th September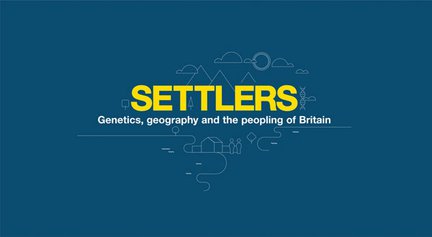 From the arrival of the earliest modern humans over 40,000 years ago to the population of the present day, the history of the people of Britain is one of movement, migration and settlement. Tracing patterns revealed by genetics, archaeology and demography, Settlers tells the dynamic story of Britain's ever-changing population.
 Uganda Stories by Sunil Shah
Pitt Rivers Museum
17th February – 27th August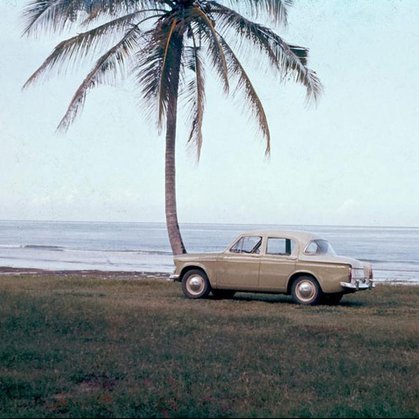 Uganda Stories is both a subjective journey to recollect the past and a study in photography's documentary potential to reassemble history. In this exhibition, Shah explores very personal themes linked to his family's roots and heritage as Ugandan Asians, and the wider narratives of exile, memory and loss.
In 1972, Idi Amin made a decree to expel the entire Asian population from Uganda. Shah was three years old when his family were made refugees and forced to endure an unexpected journey to the UK, leaving their lives and possessions behind. Growing up in Britain, Shah's account addresses a search of his family's past in defining his own cultural identity as South Asian, Ugandan and British.
Royal Air Force Museum
New Galleries, picnic areas and playground to mark a century of the RAF
Opening June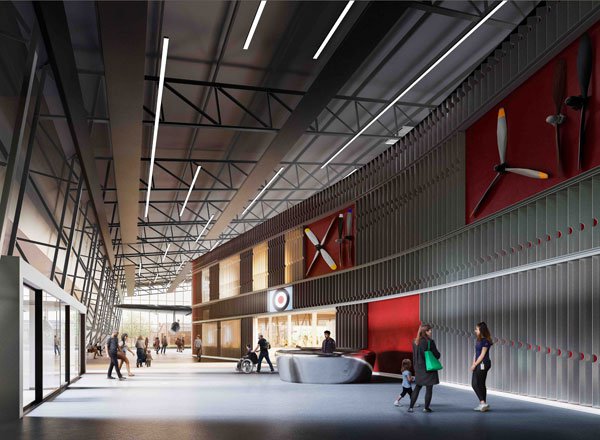 Design for new museums spaces, courtesy of the Trustees of the RAF Museum
The RAF Museum will undergo a major transformation in 2018, with three new galleries exploring the history and future of the RAF, which marks its centenary this year. Two will look at its roles today and how evolving technology shapes its work; a third will tell the story of the RAF from the Falklands conflict in the 80s through to the present.
Over 500 previously unseen artefacts relating to RAF history will be on display including logbooks, uniforms, lucky charms and technical equipment. Outside, the newly landscaped site includes outdoor picnic areas, children's playground, restaurant, visitor car parking, and fully accessible pathways.
The Museum is also launching RAF Stories -  an online digital project in which participants share accounts of the Royal Air Force. It covers former and serving personnel, their friends and family as well as partners who work closely with the RAF. It will be a global effort to uncover tales ranging from humour to heroism.
The Museum is also running a series of special public events to mark the RAF Centenary across both its sites including a Spitfire 10k run; Open Cockpit evenings and family events such as the Hendon Pageant and the Family Festival of Flight.
Royal Albert Memorial Museum
Rediscover Africa: New Africa displays
Redesigned galleries with new family area will open as part of RAMM's 150th birthday celebrations in Spring 2018.  Associated events include:
Dementia-friendly tour of the World Cultures galleries
23rd May
A friendly and relaxed tour of the World Cultures gallery, with its re-designed display of objects connected to peoples around the globe. Dementia-friendly activities are suitable for people with mild to moderate memory problems, who must be accompanied by a friend, relative or carer. Each visit begins with refreshments. An illustrated information sheet is available to take home and carry on the conversation.
Storytime in the Gallery
Dates in May
Snuggle up in the World Cultures gallery and listen to guest readers tell stories from around the world. Complementing our mask-making activities, we will travel to a different continent each day: Wednesday: Africa, Thursday: Asia, Friday: Americas, Saturday: Oceania (approx 20 mins per session).
Conference: representing Africa in British museums
Fri 8th June
Celebrating the re-opening of RAMM'S World Cultures galleries, a free one-day conference in partnership with the University of Exeter. Objects from the African continent were initially acquired by traders, political officers, explorers, scholars, and missionaries. How well does this material represent Africa? We explore this question in a conference of multi-disciplinary talks, with internationally-renowned curators and academics of African collections in Britain.
In association with the Institute of Arab and Islamic Studies and part of RAMM's 150th anniversary celebrations.
David Olusoga: Black and British
22nd  June
Historian and BBC Civilisations presenter, David Olusoga, celebrates RAMM's new Africa display and re-opened World Cultures galleries with a timely look at the long relationship between the British Isles and the peoples of Africa. Drawing on new genealogical research, original records, and expert testimony, this story reaches back to Roman Britain and travels through the medieval imagination. Olusoga illuminates the black British history that is woven into the cultural and economic histories of the nation, and how the great 19th-century industrial boom was built on American slavery. He brings to life Elizabethan 'blackamoors' and the black Britons who fought at Trafalgar and in the trenches of both World Wars. It is not a singular history, but one that belongs to us all.
Carnival of the Animals
21st April
Exeter city centre and RAMM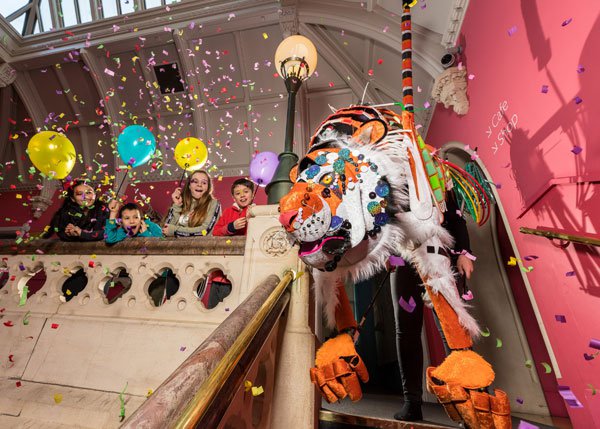 Carnival of the Animals, courtesy of RAMM
Exeter celebrates RAMM's 150th anniversary celebrations. The Carnival of the Animals will take place exactly 150 years after the original parade through Exeter to celebrate the opening of the museum. Internationally-known carnival experts Shademakers will be creating spectacular kinetic puppets to move through the streets. There will be a party atmosphere with city-centre activity hubs, music, and late night opening at the museum. The event will start on the Cathedral Green at 11am and continue throughout the day in the city centre, ending with events in the museum. In the run up to the event, the public will be designing hats and headdresses, puppets and mask for the day.
Pop Art in Print
12th  May – 26th August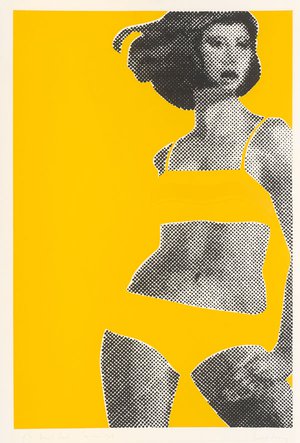 Gerald Laing; Sandra from the series Baby Baby Wild Things, 1968. Screenprint Circ.672 1968 Collection: Victoria and Albert Museum, London. Vibrant, sexy and very much of the moment, Pop Art reflected a fascination with the iconic status of celebrities and brands. Pop artists recognised the potential of prints to communicate ideas quickly and cheaply, creating art which both mirrored and critiqued the American Dream. Drawing from the V&A's outstanding collection of Pop Art graphics, this is the V&A's first exhibition of Pop Art prints. Bringing together over 70 works by more than 30 artists, it offers a comprehensive and exciting view of artists working in this style from the 1960s to the early 2000s. Inspired by commercial graphics and popular culture, the movement generated an innovative and prolific culture of printmaking.
Exhibition organised by the Victoria and Albert Museum, London.
Royal Museums Greenwich
Exploration Wing opens with four new permanent galleries
September 2018
National Maritime Museum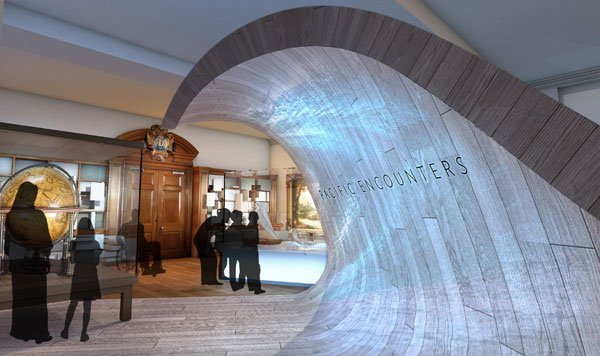 Pacific Encounters Gallery design c. Casson Mann
The Exploration Wing will open at the National Maritime Museum in the autumn, with four new galleries looking at exploration in its widest sense. 'Pacific Encounters', 'Polar Worlds', 'Tudor and Stuart Seafarers', and 'Sea Things' will showcase an additional 1000 objects from the museum's collections including a full size Pacific voyaging canoe. Installations in the 'Sea Things' gallery will include a maritime quiz, talking statues and a 'digital wave' using unusual, quirky and poignant collection items to tell stories.
The Great British Seaside: photography from the 1960s to the present  
March 2018
National Maritime Museum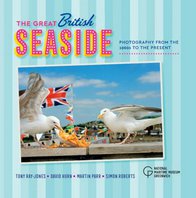 This exhibition will explore the nation's love of the seaside through photography from the last six decades, including work by Martin Parr, Tony Ray-Jones, David Hurn and Simon Roberts.
Royal Botanic Gardens Kew
Orchids Festival
10th February – 11th March
Thailand's culture, and magnificent plant life will be the centrepiece of Kew Gardens 2018 Orchids Festival in February.  As well as the stunning visual displays, visitors will be immersed in Thailand's everyday sounds via four different specially commissioned soundscapes playing inside the glasshouse. Thailand is home to 1,100 species of orchid. Botanists have been naming and describing orchids for more than 250 years and Kew is a world leader in this field.  Last year alone, 600 new species were discovered worldwide, including three from Thailand. Many orchids have important medicinal properties as well as being revered globally for their beauty. 
Peter Rabbit Festival
30th March – 15th April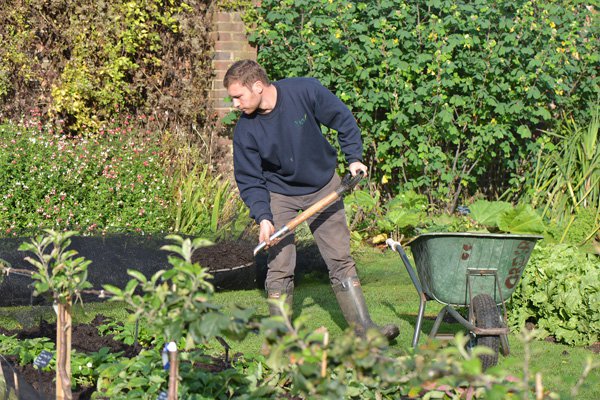 Joe Archer, Kew horticulturist in the Kitchen Garden
Easter holiday events for children and families. Visitors will follow a Peter Rabbit trail to find activity pop-ups for all ages. A trip to Mr McGregor's potting shed will encourage visitors plant their very own seeds to take home and nurture. Elsewhere, children can choose which Peter Rabbit character they'd like to be for the day and make some fuzzy bunny ears to match. There will be various other activities, games and crafts.
Reopening of the Temperate House
5th May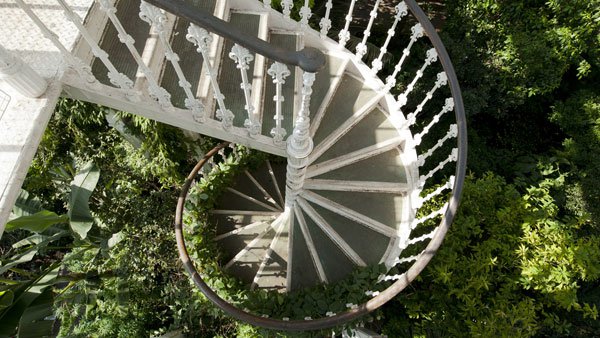 The Temperate House
The reopening of the Temperate House marks the end of a five- year restoration project, the most extensive in the Gardens' history, preserving the world's largest surviving Victorian glasshouse. Around 500 plants were taken out and housed in a temporary nursery, during the restoration; 10,000 are going back in, many of them propagated by Kew's leading horticulturists. The plants in the Temperate House will be made up of 1,500 species, from temperate regions around the world - the Mediterranean, Africa, Australia, New Zealand, South and Central America, Asia, and Island floras, some of which are rare or extinct in the wild.
 Interactive and arts events will be running throughout the summer to celebrate the reopening.
Reopening of the Great Pagoda
June (date tbc)
The Great Pagoda at Kew was built in 1762 by Sir William Chambers, and was originally covered in 80 'iridescent' wooden dragons, but these were removed in a 1784 roof repair and are now lost. The restoration of the Great Pagoda, in partnership with Historic Royal Palaces includes replacement of the dragons. The project will also allow the pagoda to be reopened to the public on a permanent basis.
Science Museum Group
Power UP
30th March – 15th April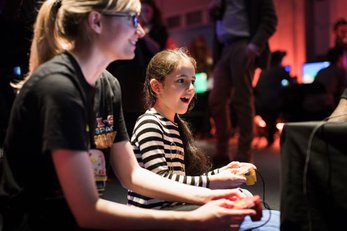 Power UP at the Science Museum, 2017. c. Benjamin Ealovega The Science Museum welcomes back the interactive gaming event Power UP.
Returning for a third year this hands-on video game extravaganza features the very best video games, computers and consoles from the past four decades and is held in partnership with leading gaming specialists European Gaming League (EGL).
Frankenstein Festival
3rd – 8th April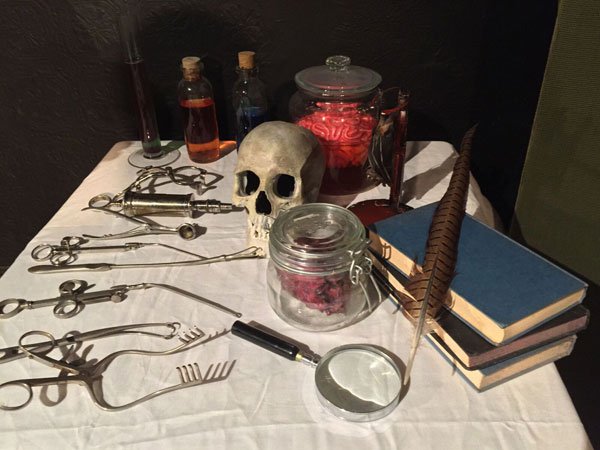 Mystery in Frankenstein's Lab c. Atomic Force Productions
The Frankenstein Festival is a season of events to celebrate the 200th anniversary of Mary Shelley's ground-breaking book. It will explore the technologies that could soon create 'life'. Through innovative storytelling, interactive theatrical events and unique hands on activities we will explore our trepidation towards emerging, contentious science and the role scientists play in ensuring its safe use.
Illuminating India
To 22nd April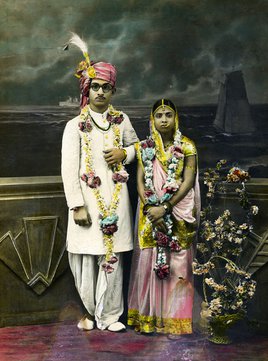 Unknown photographer and artist, Wedding portrait of an Indian couple, c. 1920 - 40. Alkazi Foundation for the Arts The two exhibitions that form the Illuminating India season at the Science Museum have been extended due to popular demand.
Both '5000 Years of Science' and 'Innovation and Photography 1857-2017' will now run until 22nd April.
Respectively they present a kaleidoscopic history of scientific breakthroughs in India and a unique photographic survey of the country's technological and cultural development. 
Thresholds
National Science and Media Museum
2nd March – 7th May
The exhibition explores the dawn of photography through an immersive extraordinary virtual reality artwork by Mat Collishaw. Audiences will see, hear and feel the past as they take a multisensory journey back in time.
Fantazmagoria
17th -18th March
Locomotion
Exploring sci-fi and Steampunk, it is coupled with 'Meccano Magic' on 27th – 28th May in which the North East Meccano Society presents a day of model delights, with displays and activities for Meccano fans young and old.
Tim Peake's Spacecraft
 Until 13th May
Museum of Science and Industry
Audiences can get up close to Tim Peake's Spacecraft and enjoy the VR experience 'Space Descent VR with Tim Peake'. The exhibition 'Robots' is running simultaneously, which explores the obsession with recreating ourselves in human form, and what it truly means to be a human in a robotic world.
Sir John Soane's Museum London
The Return of the Past: Postmodernism in British Architecture
16th May – 28th August
Terry Farrell, SIS Building, London, completed 1994. Photo c. Nigel Young
The exhibition focuses on the early 'radical moment' of Postmodernism, one of the most inventive periods in British architectural history – a moment when the architectural past came alive with new possibilities for the future.
It concentrates on a selection of pivotal works by the movement's principal protagonists – Terry Farrell, Piers Gough, Jeremy Dixon, John Outram and James Stirling/Michael Wilford. Objects include drawings, models and images, as well as full-scale replicas and fragments of actual buildings. Much of this material has never been exhibited publicly before. The exhibition will forge a rich, complex and at times surprising dialogue with the Museum and Soane's own relationship to the architectural past.
Late event: An Invitation to view the Belzoni Sarcophagus, by Lamp Light
23rd March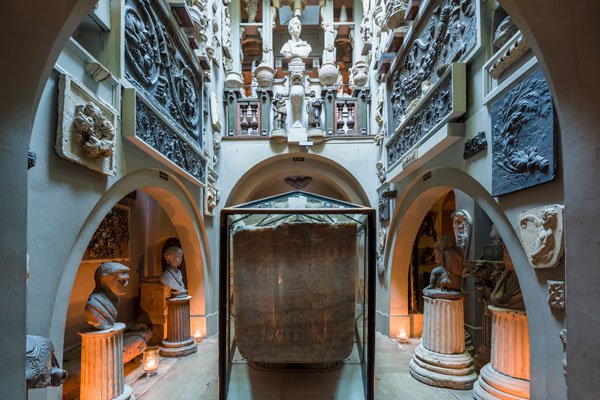 Interior of the Sir John Soane Museum
200 years ago, Italian circus-strongman turned Egyptologist Giovanni Battista Belzoni discovered the tomb of Pharaoh Seti I. Seven years later, Sir John Soane acquired Seti's sarcophagus and gave it pride of place in the sepulchral chamber at the heart of his museum. To celebrate his purchase, Soane held three celebrations attended by a who's-who of 19th century London culture and society for which he dramatically lit the museum by lamplight and served a decadent selection of tea and cakes.
This March, the museum reimagines this famous celebration with contemporary light installations, cocktails inspired by refreshments Soane's served his guests, talks by curators about the sarcophagus and other antiquities, and a chance to view the accompanying exhibition, 'Egypt Uncovered: Belzoni and the Tomb of Pharaoh Seti I'.
Tyne & Wear Archives & Museums
Great Exhibition of the North: Which Way North
Great North Museum: Hancock
22nd June – 9th September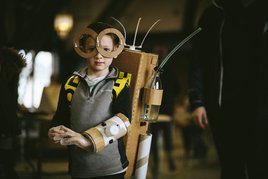 Cardboard invention workshop The entire museum is transformed as part of the biggest event in England for 2018. The exhibition at the Great North Museum tells the story of Northern art, design and innovation through such star loans as John Lennon's last piano and Helen Sharman's space suit.
Stephenson's Rocket returns to Tyneside
Discovery Museum
22nd June – 9th September
Robert Stephenson's iconic steam locomotive Rocket comes home to Newcastle on loan from the Science Museum as part of the biggest event in England for 2018.
The Enchanted Garden
Laing Art Gallery
23rd June – 7th October 2018
The Enchanted Garden explores the garden as a 'stage' for the extraordinary, the magical, the atmospheric and the nostalgic. Artists include Beatrix Potter, Lucien Pissarro, William Morris, Francis Bacon and Claude Monet, among others.
PLAY + INVENT
Discovery Museum
All year
A programme of events to inspire a new generation of designers, makers and inventors.  From creating giant cardboard sculptures, to simple coding and building crystal radios PLAY + INVENT encourages children to dream build their aspirations, expand horizons and dream big dreams for who they could be in the future. It also includes 'Tiny Sparks', an award-winning fortnightly play session for under 5s to find out about great scientists and their amazing achievements. Children are encouraged to sing, play, make stuff and have fun, inspired by intriguing and curious objects. 
Wallace Collection
Sir Richard Wallace: The Collector
20th June – 6th January 2019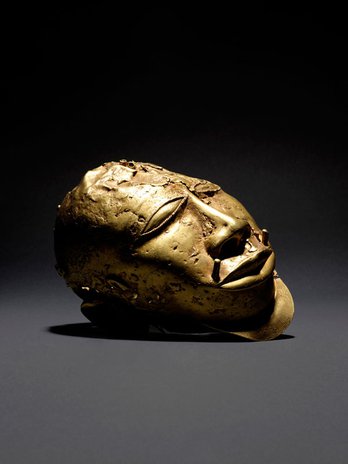 Gold Trophy Head, 19th century or earlier, Asante Kingdom, c. The Wallace Collection This June, the Wallace Collection opens a new exhibition as part of its 2018 celebrations marking 200 years since the birth of the museum's founder, Sir Richard Wallace. It highlights for the first time Sir Richard's personal contributions to the Collection we know today, focusing on the diverse and idiosyncratic works of art he acquired and his considerable philanthropic legacy. Featuring over twenty works of art collected by Sir Richard, the exhibition explores his eclectic tastes and highlights some of the unexpected treasures of the museum, ranging from a gold trophy head from the Asante Kingdom to imperial ceremonial wine cups from China and a majestic ostrich figure made by the Augsburg silversmith Elias Zorer.
York Museums Trust
York Castle Museum's 80th Anniversary
April 21st – 23rd
York Castle Museum
York Castle Museum celebrates its 80th anniversary this year. The opening weekend will be marked with special events and a display of founder Dr Kirk's earliest, most unusual and fascinating objects.   
Yorkshire's Jurassic World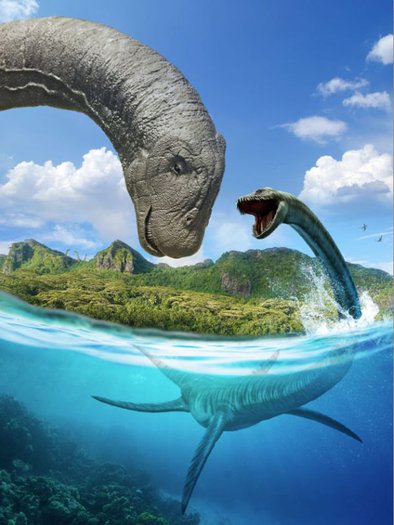 A Sauropod and Plesiosaur, which feature in Yorkshire Jurassic World at the Yorkshire Museum, created by Bright White. Opens March 24th
Yorkshire Museum and Gardens
This exhibition takes audiences back through 150 million years of Yorkshire, to discover lost giants and the changing worlds they inhabited. It explores deep seas, ancient coast
and tropical shallows and displays the dinosaurs and sea monsters that once roamed Yorkshire's vast and ever-changing landscapes. Some of the oldest and most fascinating remains in the region will be on display, alongside the latest research and ground breaking technology.
Eboracum Roman Festival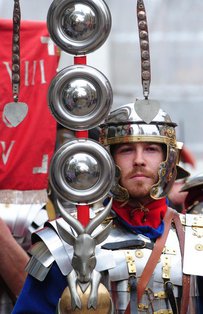 Eboracum Roman Festival, by Anthony Chappel Ross. June 1st  - 3rd

The Legions of the Roman Empire return to York and set up base once more in the York Museum Gardens. The weekend will include military displays, a Roman village and expert speakers talking about the rich Roman history of the city.
York Proms
 June 30th
Yorkshire Museum and Gardens

Following its successful first year in 2017, the proms will return to the idyllic surroundings of York Museum Gardens.
The Sea is the Limit
 May - September (exact dates to be confirmed)
York Art Gallery

This exhibition expresses the clash of realities in the minds of the migrants as well as the receiving countries. It features artists that have been working on the topic of migration and borders for decades, including Varvara Shavrova, Nidahl Chamekh, Thomas Kilpper, Massimo Ricciardo and Susan Stockwell.
 The BFG in Pictures
12th O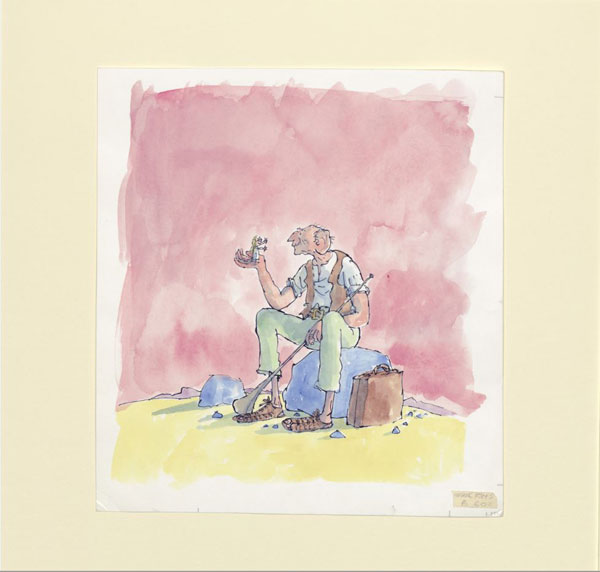 Cover artwork for 'The BFG' (Jonathan Cape, 1982) c. Quentin Blake, as part of The BFG in Pictures, a touring exhibition from the House of Illustration. ctober – 24th Feb 2019
York Art Gallery
The BFG in Pictures is the first major exhibition of artwork by Quentin Blake for Roald Dahl's enduring tale. It is a touring exhibition from House of Illustration.