NMDC's event and exhibition highlights 2017
NMDC's event and exhibition highlights 2017
Some highlights from the programmes of NMDC members during 2017.
Beamish, The Living Museum of the North
The Great North Steam Fair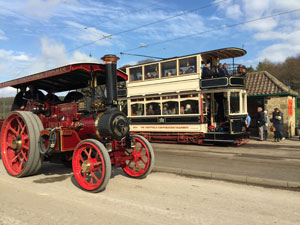 Great North Steam Fair at Beamish 6th – 9th April 2017
Part of The Great North Festival of Transport at Beamish, the Great North Steam Fair is a for both transport enthusiasts and families.  There's an amazing line-up of visiting vehicles plus Beamish transport in action and on view.  The line-up will include steam locomotives, around 20 road steam vehicles and up to 80 motor vehicles including motor cycles, cars and lorries.
Festival of 50s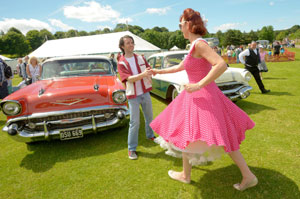 Festival of the 50s at Beamish  6th – 9th July
Visitors are invited to put on their finest 50s fashion and rock and be transported to the days of rock 'n' roll and teddy boys, Pathé News and petticoats. There will be live music, 50s hairdos, fairground and milkshakes.
Black Country Living Museum
Peaky Blinders Nights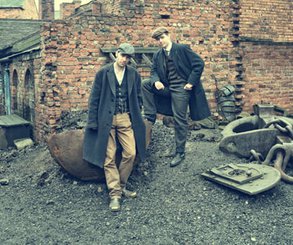 photography by Gibson Kochanek Studio 8th & 9th September, 15th & 16th September
Built around the TV series Peaky Blinders, these evening events convey a  dark history in this immersive and unique event at the show's creator's self-proclaimed 'home' of the Peaky Blinders, Black Country Living Museum.
Birmingham Museums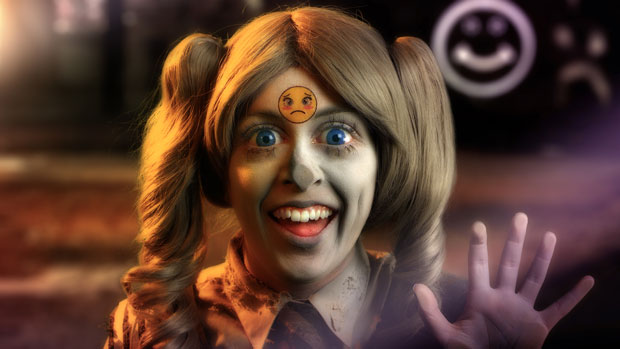 Rachel Maclean 'Feed Me', 2015. Courtesy of the artist, Arts Council Collection, South Bank Centre
I Want! I Want!: Art & Technology
1st April – 30th September


A curated selection from the Arts Council Collection with key loans from other major collections, this exhibition will present the work of contemporary artists working with new technologies including video and gaming. 
Taking its title from a print of the same name by visionary artist William Blake, the exhibition will feature work by artists including Rachel Maclean, Julian Opie, Ed Atkins, Rose Finn-Kelcey, Toby Ziegler, Cao Fei, Paul Pfeiffer and Thomson and Craighead. Details.
Brighton Royal Pavilion & Museums
2017 Regency Season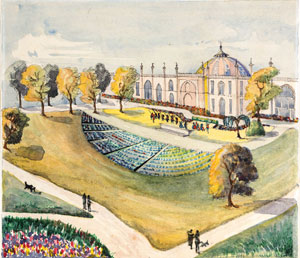 Plan for a performance space in the Pavilion gardens 1920s or 30s Visions of the Royal Pavilion Estate
14th  March – 3rd September  (free with Museum admission)
 Brighton Museum & Art Gallery
This display will showcase rarely-seen views of the Royal Pavilion Estate dating back to the 1760s, as well as cutting-edge digital reconstructions of how it might have looked.  Illustrations from the earliest printed books about the estate will sit beside unrealised designs, early municipal maps and 20th century plans and images, sourced almost exclusively from the city's archives and collections. Details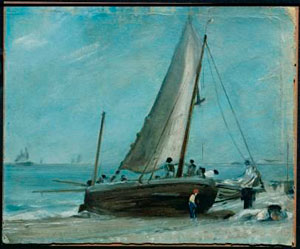 Constable's Brighton Beach with fishing boat c 1924 - 28. Courtesy of the V&A.. Constable and Brighton
8th April – 8th October 2017 (admission payable, members free)
Brighton Museum & Art Gallery
John Constable and his family stayed in Brighton 1824-1828, when Constable repeatedly walked along the coast and up into the Downs. Constable and Brighton will follow Constable's walking and painting sequences, illustrating the sketches and paintings he produced as he explored the Brighton landscape. The exhibition will explore the impact and influence of the work he made here, and bring the sketches, drawings and paintings he created in the town back to Brighton for the first time. Details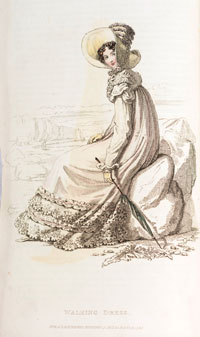 Ackermann's 1818 walking dress. Courtesy of the University of Sussex Jane Austen by the Sea
17th June – 8th January 2018 (free with admission, members free)
Royal Pavilion
This new display will explore Jane Austen's relationship with coastal towns, and life in Brighton during her time, to mark the bicentenary of her death.  It will look at the seaside context of Austen's plots and paint a picture of the leading resort of Brighton in the early 1800s, when it was a fashionable 'watering place' featured in novels like Pride and Prejudice.  Although there is no clear evidence that Austen visited Brighton she included it in several of her works, and the display will reassess her relationship with the town in the light of a long-term misunderstanding arising from a hand-written 1799 letter.  Details
Bristol Museums
Skeletons: Our buried bones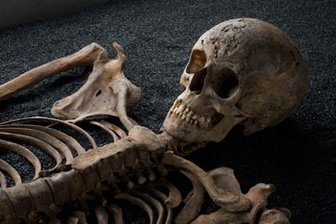 8th April – 3rd September
MShed
Twelve human skeletons from Bristol and London – each with a unique story to tell.
From a young man, buried without ceremony in South Gloucestershire 3,500 years ago, to a Roman couple found in a single stone coffin, this is a reflection on our society's rich and varied past and the changing face of the places we live and work in today.
Alongside the exhibition, an exploratory space reveals some of the science behind the stories. Test your knowledge of bones; search for hidden clues to analyse skeletons yourself; and hear from the experts of the excavation site, lab and museum. Details.
Pliosaurus!
10th June – 7th January 2018
Bristol Museum & Art Gallery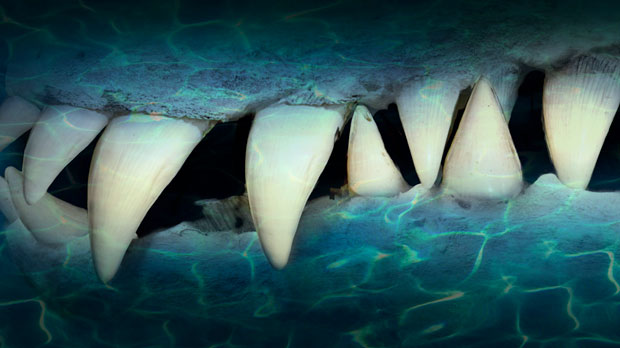 This exhibition takes visitors 150 million years back in time to when Bristol was a Jurassic ocean teeming with extraordinary creatures. The biggest and fiercest of all was the giant underwater beast, Pliosaurus. Feeding off fish, squid and even flying reptiles, the Pliosaurus was the ultimate ocean predator.
A family exhibition for children aged 3-10 years old. Visitors come face to face with the beast discovering how it lived – and eventually died. Details.
The museum is also holding a competition, ending in March to name its resident pliosaurus.
Booty, Baddies and Beasties
23rd March
Bristol Museum & Art Gallery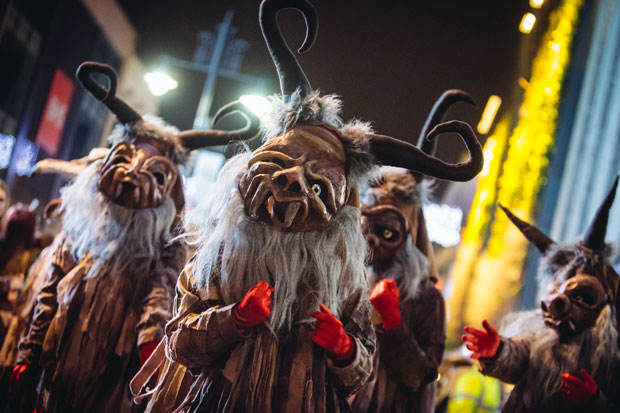 Fancy dress is strongly encouraged for a journey into the Dark Ages at Bristol Museum & Gallery. It involves theatrical performance, immersive film, dark sounds and blood curdling storytelling as the museum delves into the epic poem of Beowulf.
The audience enters Grendel's swampy lair and is inducted into the games and training needed for the testing time ahead. With an atmosphere of suspense, soundscapes, music and animations, the creatures and monsters of the museum will come alive – appearing on walls and whispering from the ceiling. There will be swords, storytelling and rap battles. A stimulating break in the action will be provided by experts who will illuminate Anglo-Saxon life, culture and gold. A bar reflecting the Great Hall of Heorot will be open for audiences to drink, sing and be merry. Details and booking.
British Museum
The American Dream: pop to present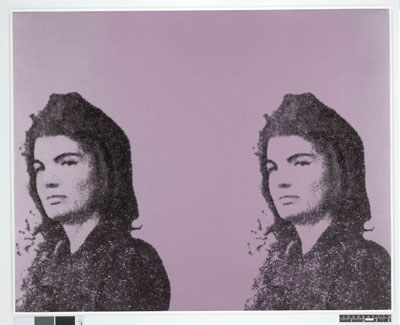 Courtesy of the British Museum 9th March – 18th June
The Sainsbury Exhibitions Gallery
This spring the British Museum will stage the first major exhibition on modern and contemporary American printmaking, The American Dream: pop to present will trace the creative momentum in American art over the past five decades – from the moment Pop art burst onto the New York and West Coast scenes in the early 1960s to the rise of minimalism, conceptual art and photorealism. Using innovative techniques and with mass appeal, the unprecedented scale, boldness and ambition of American printmaking was the ideal medium to express the USA's power and influence, as well as dealing with explosive issues such as race, AIDS, and feminism.
The exhibition will feature works by artist such as Jasper Johns, Roy Lichtenstein, Kara Walker, Robert Rauschenberg and Andy Warhol. Sponsored by Morgan Stanley and the Terra Foundation for American Art. Details
Hokusai: beyond the Great Wave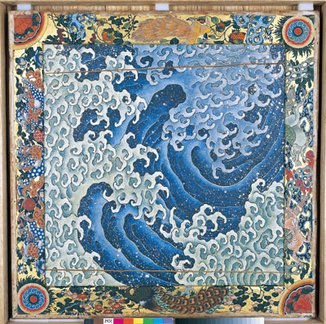 Courtesy of the British Museum 25th May – 13th August
Room 35
This exhibition focuses on the last thirty years of Japan's most renowned artist's, Katsushika Hokusai (1760–1849), career from around 1820 to 1849. It features a broad selection of works - from the iconic print 'Great Wave' of c. 1831, to sublime painted works done right up to his death at the age of 90. The exhibition examines Hokusai's personal beliefs through major paintings, drawings, woodblock prints and illustrated books – many never seen before in the UK. Hokusai continued to use landscape and wave imagery as a major subject during his later years, but his interest in nature, in exploring the mutability and minutiae of all phenomena in his art, was increasingly tied to a spiritual quest.  Supported by Mitsubishi Corporation. Details
Glasgow Museums
Polygraphs
17th February – 17th September
Gallery of Modern Art (GoMA)
Polygraphs is a group show with Berlin based filmmaker and writer, Hito Steyerl's, work Abstract (2012) at its centre.
A Fair Life
23rd January  – ongoing
Riverside Museum
Scottish Showmen and women have played a significant role in the cultural history of Scotland and its people.  For hundreds of years showpeople have travelled the country, providing entertainment with their rides and attractions.  Their history is unique.  A Fair Life, co-curated with a small group of Scottish Showpeople, charts the unique traditions and histories of this tight-knit community.
Frank Quitely: The Art of Comics
1st April – 1st October
Kelvingrove Art Gallery and Museum
Responding to the recent global fascination with the comic book and superhero genre, Kelvingrove will host Frank Quitely: The Art of Comics. The exhibition will focus on Glaswegian and Scottish writers and artists such as Frank Quietly, Mark Miller (of KickAss fame) and Grant Morrison (DC Comics Batman and All Star Superman), revealing the amazing influence and contribution Scotland has had on the global industry of comics.
Horniman Museum & Gardens
The Robot Zoo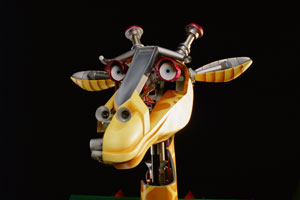 11th February – 29th October
The Robot Zoo houses larger-than-life-size robot animals made from familiar machine parts and gadgets, in a hands-on family exhibition revealing some of nature's most amazing adaptations. Through interactive games and challenges, The Robot Zoo reveals how a chameleon changes colour, what makes grasshoppers leap so high, and exactly why a platypus looks so strange.
Using pistons for muscles, pipes instead of intestines, and computerised 'brains', the robot animals show how their real-life counterparts see, hear, hunt, hide and move. And through other interactive exhibits visitors can try their hand at squid racing, fire a chameleon's 'tongue-gun' and design their own 'mutant' robot creature. Details
Butterfly House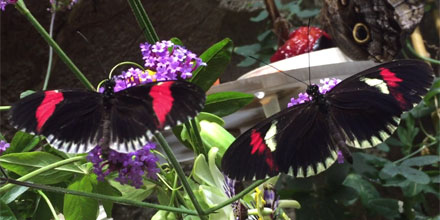 Postman butterflies Opening summer 2017

The Horniman Museum and Gardens will be opening a Butterfly House this summer. The new attraction will offer visitors an immersive experience in a specially-planted indoor garden that will be home to a beautiful range of free-flying, exotic butterfly species. The Butterfly House will complement the Horniman's other Living Collections which includes alpacas, jellyfish and bees. Details
Imperial War Museums
People Power: Fighting for Peace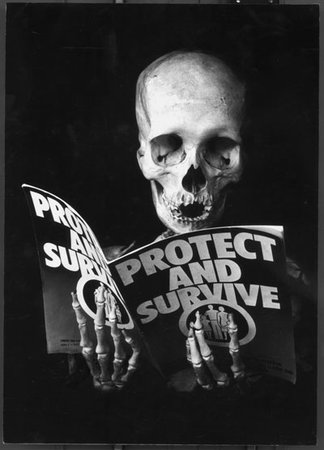 Protect and Survive, c. Peter Kennard, 1981 23rd March – 28th August
IWM London 
This is the first major exhibition to explore the evolution of the anti-war movement from the First World War to the present day. The exhibition tells the stories of individual and collective acts of anti-war protest, and the varied forms of creative expression used to campaign against war.  
A unique combination of more than three hundred items will help explore how peace activists have influenced perceptions of war and conflict. Paintings, literature, posters, banners, badges and music reveal the breadth of creativity generated by those who have opposed war and how anti-war protest has been inextricably linked to the cultural mood of each era.
Highlights of the exhibition include Wire (1918) by Paul Nash and C R W Nevinson's Paths of Glory (1917), artworks depicting the destructive nature of the First World War; a holograph manuscript of Siegfried Sassoon's poem The General on display for the very first time; a hand-written letter by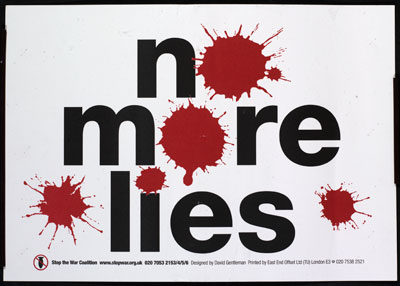 No More Lies, c. David Gentleman, reproduced with kind permission of the Stop the War Commission Winnie the Pooh author A A Milne outlining his struggle to reconcile pacifism with the rise of Hitler; the original sketches of the nuclear disarmament symbol by Gerald Holtom; and Peter Kennard and Cat Phillip's iconic photomontage Photo Op (2007) which depicts Tony Blair taking a selfie against the backdrop of a devastating explosion.
Objects are drawn from IWM's own collections alongside significant loans showing the complexity and evolving nature of the peace movement.
Syria: A Conflict Explored
27th April – 3rd September
IWM London 
This series of exhibitions and events reflects upon the ongoing conflict in Syria. 'Sergey Ponomarev: A Lens on Syria', is the first UK exhibition of photographs by the Russian documentary photographer. Including colour prints and digital media, it features Assad's Syria (2013-2014) and Europe Migration Crisis (2015-2016), two award-winning series of work created by Ponomarev in association with the New York Times, addressing the consequences of conflict in Syria. This exhibition will sit alongside 'Syria: Story of a Conflict' an intimate display, exploring the origins, escalations and impact of the conflict in Syria.  The display will include a selection of objects alongside immersive film footage.
Wyndham Lewis: Life, Art, War
23rd June – 1st January 2018
IWM North
This is the first major UK retrospective of 20th century British artist Wyndham Lewis' work in almost forty years. The exhibition marks one hundred years since Lewis was first commissioned as an official war artist in 1917. A radical force in British art and literature and regarded as Britain's true modernist artist, Lewis was the founder of Britain's only true avant-garde movement, Vorticism. The exhibition will comprise of more than 150 artworks, books, journals and pamphlets from major public and private, national and international collections.
IWM Duxford centenary
Throughout 2017
IWM Duxford
IWM Duxford's 2017 annual air show season features Duxford Air Festival, which will take place on May Bank Holiday weekend including aerobatic displays and powerful contemporary aircraft. Flying Legends Air Show, on 8th – 9th July, is a fusion of power, sound, excitement and nostalgia featuring historic aircraft from all over the world.  Duxford Battle of Britain Air Show 23rd – 24th September and evokes Duxford's pivotal role in the Second World War, with Spitfires and an array of engaging  historic activities held across the museum site.
Ironbridge Gorge Museums
Reopening of the Museum of Iron
Easter 2017
Coalbrookdale Museum of Iron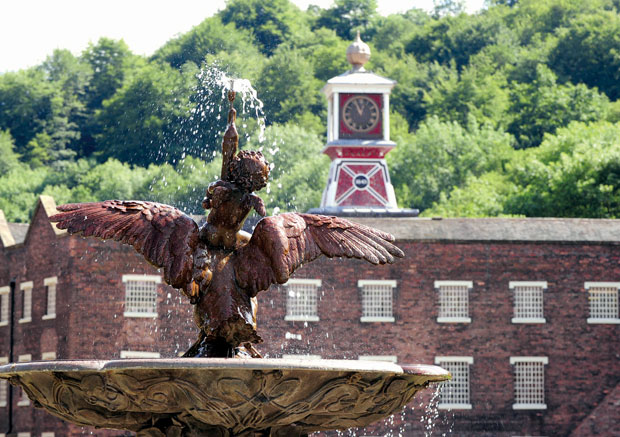 Exterior of Coalbrookdale Museum of Iron
It is 50 years since the founding of the Ironbridge Gorge Museum Trust in 1967 and also 300 years since the death of Abraham Darby I, widely recognised as the man who started the Industrial Revolution. As part of Ironbridge's anniversary celebrations Coalbrookdale Museum of Iron will be re-opening in time for Easter 2017 following a massive refurbishment of all three floors. The all new museum will tell the complete history of the iron industry, from explaining how the geology of the Gorge provided all of raw materials needed for iron to be made there from medieval times, through to the modern steel industry.
Examples of the varied ironware made in Coalbrookdale will be on display including a giant whaling pot, an anchor from a Napoleonic Warship as well intricate and beautiful statues, furniture and everyday household goods such as door stops, cooking pots and flat irons. Children will be able to follow their own interactive trail around the museum and work out fun puzzles.
Leeds Museums and Galleries
For All Seasons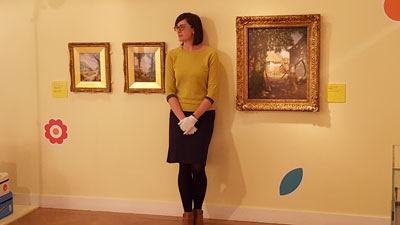 Curator of exhibitions at Leeds City Museum Ruth Martin with John Atkinson Grimshaw paintings. 10th February – 28th August
Leeds City Museum
A colourful, interactive look at the way the changing seasons shape the world, For All Seasons includes a combination of games, music and history.
Featuring imaginative centrepieces like a giant sandcastle, indoor tree, traditional sledge and hook-a-duck pond, the exhibition is designed to be fun and family-friendly.
Among items on display are a spectacular variety of wildlife, some 100 year-old decorative Easter eggs, delicate ceramics and historic seasonal fashions.
During the exhibition, the museum will also be the temporary home to a selection of stunning paintings by world-famous Leeds artist John Atkinson Grimshaw, on loan from Leeds Art Gallery, which is closed for refurbishment.
The free exhibition is accompanied by specially-recorded classical piano sheet music from the museum's collection including Summer Blossoms by Ezra Read and Autumn from The Four Seasons by Frederic Mullen. More details about the exhibition and the programme of activities.
Fashionable Yorkshire - 500 Years of Style
March 17th – December 31st
Lotherton Hall Fashion Galleries
Set in Lotherton Hall's beautiful fashion galleries, the exhibition will explore the history of fashion in Yorkshire through the clothes and personal stories of a cross section of local women
Visitors will be able to find out more about the individual lives of each woman, from a rich merchant's daughter who married a Yorkshire landowner in the 1600s to an art student enjoying the freedom of the 1970s.
Through looking at the clothes they have worn in different eras, the exhibition will reveal how each woman's fashion choices were a window into the ways society has changed over the centuries. Details.
Fairy Tales and Fantasy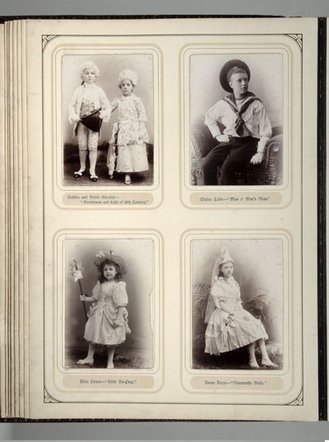 A page from the fancy dress photo album January 21st – December 31st
Abbey House Museum 
A journey into the world of storybooks, 'Fairy Tales and Fantasy' showcases a huge collection of objects that inspired popular children's tales.
Displaying historic items from the Leeds collection like a Sleeping Beauty-style spinning wheel from the 1800s and a beautiful miniature replica of a carriage much like Cinderella's, the exhibition looks at the everyday items at the centre of some of history most enduring stories.
Included in the exhibition is an album of photos from January 12, 1891, captured during an extravagant fancy dress ball hosted by the then Mayor and Mayoress of Leeds.
Exhibits are displayed alongside images from the museum's collection of children's book illustrations as well as a selection of vintage toys and games. Details.
Manchester Museums
New North and South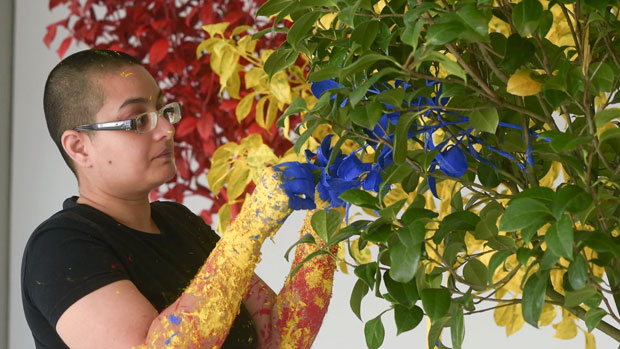 In Leaf (Primary Time) Neha Choksi, 2015, live performance. Created for Hayward Gallery. Courtesy of the artist and Project 88, Mumbai
Eleven arts organisations in the North of England and South Asia have formed a major contemporary art network - New North and South. It will include a three-year programme of artistic commissions, exhibitions and intellectual exchange  which will celebrate the shared heritage of South Asia and the North of England.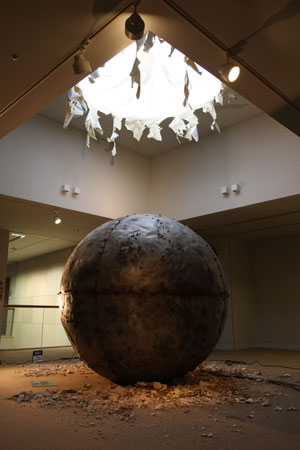 Deep Sky Object Mehreen Murtaza 2014, metal, rock, 8 ft (radius)Courtesy of the artist and Grey Noise, Dubai 2017 programme highlights include solo exhibitions by Waqas Khan, Hetain Patel, Neha Choksi and Risham Syed at Manchester Art Gallery, Raqs Media Collective and Raqib Shaw at the Whitworth and Dhaka Art Summit, Reena Saini Kallat at Manchester Museum and a new performance by Nikhil Chopra at the Museum of Science and Industry.
This new network consists of Manchester Art Gallery, the Whitworth, Manchester Museum, Liverpool Biennial, The Tetley in Leeds and Colombo Biennale (Sri Lanka), Dhaka Art Summit (Bangladesh), Karachi and Lahore Biennales (Pakistan), Kochi-Muziris Biennale (India) and the British Council. The New North and South aims to connect with diverse audiences on both continents through a programme of exhibitions and events that showcase the best of contemporary art from Bangladesh, India, Pakistan, Sri Lanka and the UK and also explore unequal and contested histories of empire and the industrial revolution.
And Now We are Plastic
to April 2nd
Whitworth Gallery
Whitworth Young Contemporaries are a group of 15 - 25 year olds who meet weekly at the gallery and programme exhibitions. They regularly work with emerging artists. The  result is their first exhibition 'And Now We are Plastic', which considers the ubiquity and flexibility of the modern material, and also looks back at how we have shaped objects through time. Items in the show include early Egyptian textiles, 18th century satire, alongside contemporary artists. Details.
Siobham Davies Dance: material/ rearranged/ to/ be
6th – 14th May
Whitworth Gallery

Bringing together film projection, performance and sculptural objects for one week this collaboration will allowed visitors to be immersed in a live environment which evolves around them. It is inspired by the work of historian Aby Warburg who collected human gestures and poses from different times and places to spark off new ideas. The installation will also tour to Bluecoat, Liverpool. Details.
Nikhil Chopra
29th September - 1st October
Manchester Museum of Science and Industry
Artist Nikhil Chopra will undertake a three-day, 60 hour performance marking the anniversary of Partition using the Museum of Science and Industry Pakistan Railways steam locomotive, an engine commissioned by Indian Railways and then transferred to Pakistan after Partition. Its working life in both countries – and its role as witness to Partition – have remained largely hidden from public view, but will be an evocative inspiration for the piece. Chopra is renowned for using characters to examine colonial India and Britain.  His practice ranges between live art, theatre, drawing, and installation combing everyday life and collective history. For this new work, Chopra will develop his investigation of Manchester's colonial, industrial and cultural links with India, particularly focussing on railways.
Manchester Science Festival and Robots: The 500 Year Quest to Make Machines Human
Part of Manchester Science Festival
20th October – 15th April 2018
Every October, Manchester Science Festival creates innovative, surprising and meaningful experiences, across the city, where people of all ages can ignite their curiosity in science. In the past there has been an adult ballpool, an exhibition on brains and an appearance from astronaut Tim Peake. In 2017, one of the highlights will be the opening of Robots: The 500 Year Quest to Make Machines Human. Touring from the Science Museum, London, this exhibition explores the rich history, culture and technology of humanoid robots getting visitors face to face with creations from history, science fiction and research labs.
Wynford Dewhurst: Manchester's Monet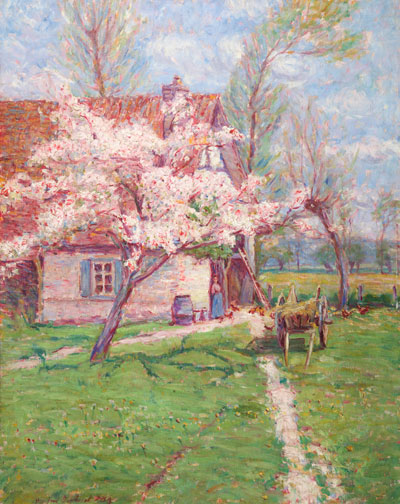 Wynford Dewhurst 'At the Cottage Door' c. 1902. Private Collection Photograph: Dan Brown to 23rd April
Manchester Art Gallery
This is the first retrospective of the English impressionist painter and art theorist since his death in 1941, which will include many works that have not been on public display before.
A controversial figure on the Anglo-French art scene at the turn of the twentieth century, Wynford Dewhurst is most famous for his 1908 work 'The Picnic', in the collection of Manchester Art Gallery. This exhibition brings together a large selection of Dewhurst's shimmering paintings with contextual material to reintroduce the painter to his native city.
Strange and Familiar: Britain as revealed by international photographers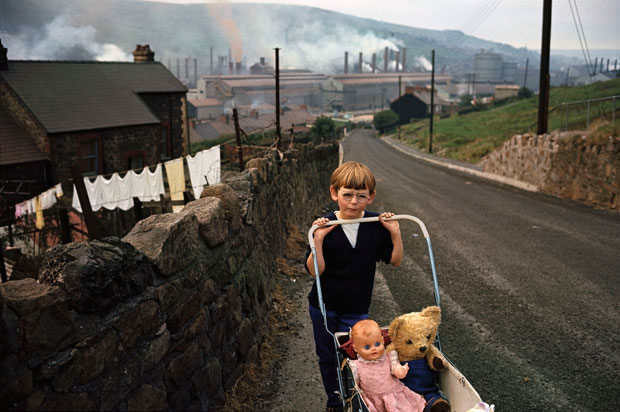 Bruce Davidson, Wales, 1965 c. Bruce Davidson/Magnum Photos
To 29th May
Manchester Art Gallery
As Britain questions its place in Europe and the world, and ideas of what counts as British are called into question, this exhibition reflects upon how Britain is perceived by those outside its borders. The show examines how international photographers from the 1930s onwards have captured the social, cultural, and political identity of the United Kingdom through the camera lens. From social documentary and portraiture to street and architectural photography by some of the luminaries of 20th and 21st century photography, the exhibition presents a vibrant portrait of modern Britain, from Hebrides to Dover, Belfast to Cardiff. It is curated by photographer Martin Parr. Details.
Museum of London
City Now, City Future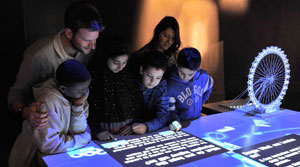 mid May 2017 – April 2018
With more than half the world's population now living in urban areas, the Museum of London's City Now City Future season for 2017 will examine the various challenges that an increasingly urbanised earth poses to the world and its inhabitants. At the heart of this year-long season of exhibitions, creative commissions, large-scale public events, talks and debates is The City is Ours, a dual-language exhibition from Cité des Sciences et de l'Industrie in Paris which explores the ideas and innovations being developed by urban communities to improve how their cities work and people's experience of living in them. Details
Tunnel: The Archaeology of Crossrail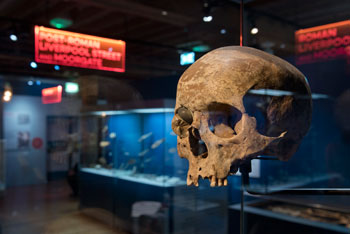 10th February – 3rd September
Museum of London Docklands
Since work began in 2009, the Crossrail project has undertaken one of the most extensive archaeological programmes in the UK, uncovering tens of thousands of artefacts which shine a light on almost every important period of the Capital's history.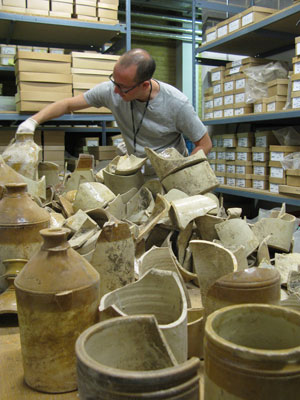 Crosse and Blackwell jars: 13,000 were found dumped in a cistern near Tottenham Court Road Tunnels were dug deep beneath some of London's busiest streets so as not to disturb important foundations, however, when these tunnels reached the surface, an opportunity arose to uncover layers of London's history. The majority of these objects, along with thousands of records, images and plans are now part of the Museum of London's Archaeological Archive.
500 of the most exciting objects will be on display, exploring 8,000 years of human historyand revealing the stories of Londoners ranging from Mesolithic tool makers and inhabitants of Roman Londinium to those affected by the Great Plague of 1665. Finds were discovered in locations as diverse as suburban Plumstead in the south east, through Canary Wharf, across to Liverpool Street, Tottenham Court Road and ending in Westbourne Park and Acton.
Museums Sheffield
Tim Etchells & Vlatka Horvat: What Can Be Seen
 8th February – 7th May
Millennium Gallery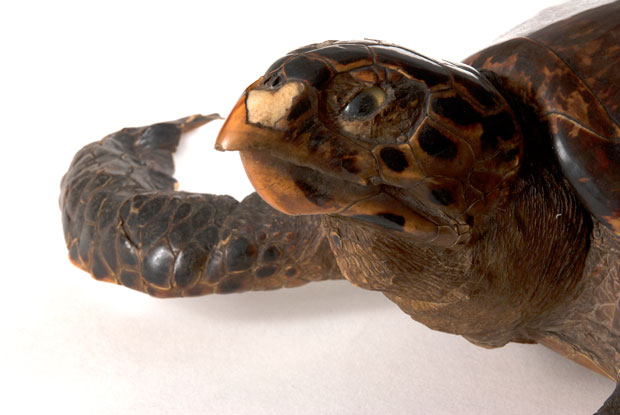 Hawksbill Sea Turtle Eretmochelys imbricate, (Linnaeus,-1766). 1913, from Natural Sciences Collection. c. Museums Sheffield
Museums Sheffield is hosting a major new collaborative project by internationally renowned artists Tim Etchells and Vlatka Horvat. What Can Be Seen will present a playful reimagining of the city's historic museum collections alongside new work by the artists, produced especially for the exhibition.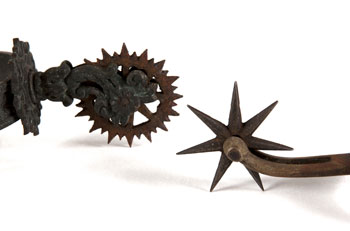 Spurs, around 1900 from Decorative Arts Collection. c. Museums Sheffield The project draws from the city's diverse collections to explore how we attempt to understand the world through history, science, art, narrative and the act of collecting itself. By presenting unexpected groupings of objects from across the city's collections, alongside fascinating series of similar items and drawings, as well as behind-the-scenes images taken in the museums store, Etchells and Horvat explore new relationships between otherwise unrelated subjects and areas of inquiry.
Objects and images will be drawn from archaeology, natural sciences, decorative art, visual art and social history, including pocket watches, biological specimens and Egyptian artefacts, as well as weather data charts, early 20th century puppets and a set of empty picture frames from which the paintings have been removed for conservation. Idiosyncratic and surprising, Etchells and Horvat's project zooms in again and again on the act of care, observation and study by curators, scientists, artists and others as they try to record, understand, and communicate the world. Details
National Army Museum
Reopening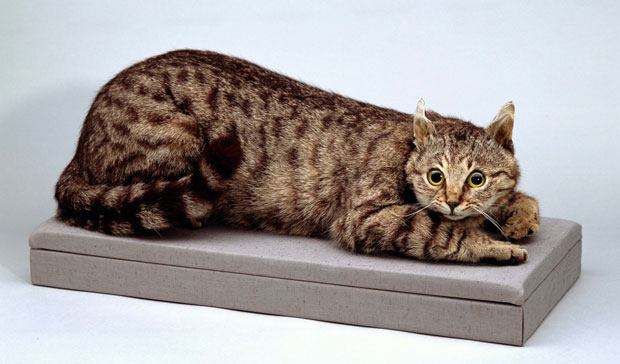 Crimean Tom. Courtesy of the National Army Museum
30th March
The new National Army Museum will be opening its doors to the public on 30th March 2017, complete with five new thematic galleries showcasing 2,500 objects. Highlights on display include a Burberry trench coat, and Crimean Tom - a cat found during the Crimean War and brought back to Britain as a pet. It also explores how the British Army affects society - from music and journalism, toys and fashion, to medicine and technology as well as as a military force. The Soldier gallery follows the life of a soldier from recruitment and training to daily life, the reality of crime and punishment and finally coming home.  There is also a café, and PlayBase for visitors aged 0 – 7. Details.
Women in Combat Roles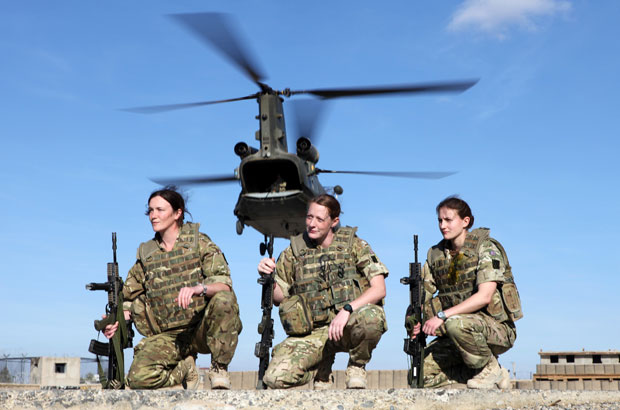 Soldiers of the Second Battalion, The Royal Highland Fusiliers, Helmand Province 2011. Courtesy of the National Army Museum
1st March, 7pm
RUSI, Whitehall
A hundred years ago, women could officially join the army for the first time as part of the Women's Army Auxiliary Corps (WAAC). In July 2016, the Prime Minister, David Cameron, announced that women would be allowed to serve in combat roles. The National Army Museum is bringing together a panel of experts to discuss the significance and implications of the decision to lift the ban on women in combat roles in the British Army. Speakers include: Dr Victoria Basham, Bethan Targett, Deborah Haynes, Elizabeth Quintana. Details.
National Library of Scotland
Enduring Eye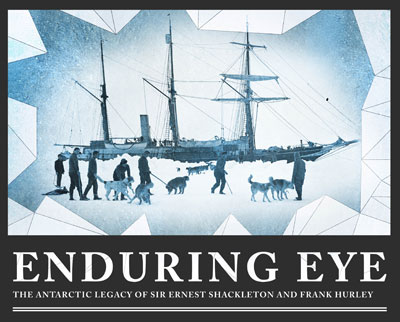 June 16th – November 12th

One of the greatest ever photographic records of human survival, 'Enduring Eye' honours the achievements of Sir Ernest Shackleton and the men of the Endurance Expedition of 1914 -1917.  

Shackleton's official expedition photographer Frank Hurley saved the fragile photographic negatives, which documented the expedition, under the most extreme circumstances to provide a lasting record of the men of the Endurance and their story. This exhibition showcases Hurley's images alongside items from the Library's polar collections, to tell the fascinating and enduring story of the expedition The exhibition has been researched, written and curated for the Royal Geographical Society (with IBG) by Meredith Hooper, with Library collection items selected by Paula Williams.
National Museum of Scotland
Monkey Business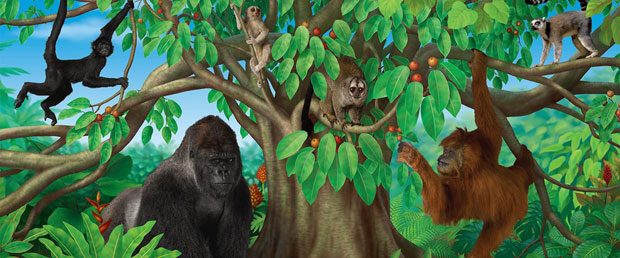 Courtesy of National Museums Scotland
until 23rd April 2016
Monkey Business is a family-friendly exhibition which explores the world of primates, from the tiny mouse lemur to the mighty gorilla. Featuring more than 50 new taxidermy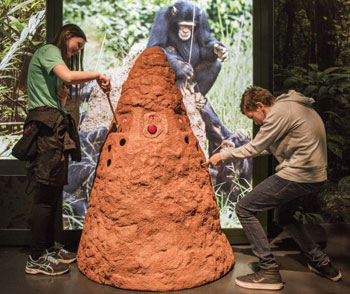 Courtesy of National Museums Scotland specimens, visitors can discover how different primates move and communicate, how they have developed tools to get hold of food and their complex social systems. It will also examine the relationship between humans and primates, including the ways in which many species are threatened with extinction through the impact of habitat loss and hunting. This exhibition is supported by players of People's Postcode Lottery. Details
Music, insects as food, board games and Edinburgh Zoo feature in the related Late event on 10th March. Details.
The Tomb: Ancient Egyptian Burial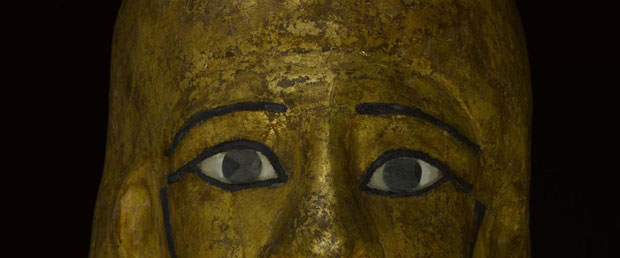 Courtesy of National Museums Scotland
Opening 31st March
This exhibition presents the story of one extraordinary tomb, built around 1290 BC and reused for over 1000 years. The tomb was constructed in the great city of Thebes (modern day Luxor), shortly after the reign of Tutankhamun, for the Chief of Police and his wife. It was looted and reused several times, leaving behind a collection of beautiful objects from various eras. These will be displayed alongside objects found in nearby tombs, giving a sense of how burial in ancient Egypt changed over time. The tomb's final use occurred shortly after the Roman conquest of Egypt, when it was sealed intact with the remarkable burials of an entire family. This exhibition is sponsored by Shepherd + Wedderburn and comes ahead of the opening of a new permanent Ancient Egypt gallery at the National Museum of Scotland in spring 2019. Details.
Bonnie Prince Charlie and the Jacobites
Opening 23rd June
The first major exhibition on the Jacobites for 70 years, it will reveal the truth about the rise and fall of the Jacobites, with a key focus on Prince Charles Edward Stuart, better known as Bonnie Prince Charlie. It will feature exceptional material from National Museums Scotland's collections and spectacular treasures from across the UK and France. This exhibition is sponsored by Baillie Gifford Investment Managers. Details
National Airshow
22nd July
National Museum of Flight
Scotland's National Airshow is a spectacular day out for all ages.  Old and new aircraft take to the skies for an afternoon of breathtaking aerial displays. Visitors can also meet the pilots and explore the museum's hangars. There are also children's activities, fairground rides and food.  Details.
National Portrait Gallery
The Encounter: Drawings from Leonardo to Rembrandt
13th July – 22nd October
This exhibition will include works by some of the outstanding masters of the Renaissance and Baroque, many rarely seen, and some not displayed for decades. The drawings not only serve as extraordinary records of an artist's skill and a sitter's appearance, but have been selected for this exhibition because they appear to capture a moment of connection, an encounter between an artist and a sitter.
Some of the people depicted in these portraits can be identified, such as the emperor's chaplain or the king's clerk, but many are the faces from the street – the nurse, the shoemaker, and the artist's friends and pupils in the studio – whose likenesses were rarely captured in paintings during this period. The exhibition includes some of the hidden treasures of Britain's finest collections, as the drawings' sensitivity to light means they cannot be put on regular display. Highlights include 15 drawings generously lent by Her Majesty The Queen from the Royal Collection, including eight portraits by Hans Holbein the Younger.
Gillian Wearing and Claude Cahun: Behind the mask, another mask
9th March – 29th May
 This exhibition will draw together over 100 works by French artist Claude Cahun (1894–1954) and British contemporary artist Gillian Wearing (b.1963). While they were born seventy years apart, they share similar themes around gender, identity, masquerade and performance.
Howard Hodgkin: Absent Friends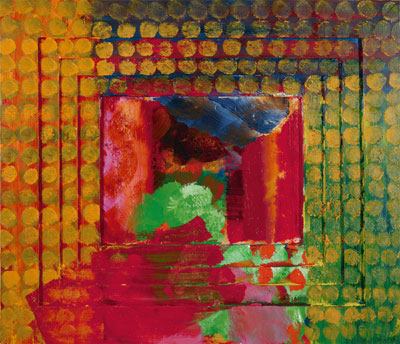 Portrait of the artist by Howard Hodgkin, 1984-87 Private Collection c Howard Hodgkin 23rd March – 18th June 2017
be the first exhibition to focus on Hodgkin's portraits. This important aspect of Hodgkin's work has been largely overlooked because his work appears abstract.  However, the exhibition shows the breadth and nature of Hodgkin's long-standing engagement with portraiture. With over 55 works from collections around the world and dating from 1949 to the present, the exhibition will show the development of Hodgkin's portraits, exploring his important contribution to our understanding of what constitutes a portrait and examining key themes within the artist's work: colour, memory, emotion, process and imagination. 
Hodgkin's art can be seen as providing memorials for people, many of whom are friends, whose absence is countered by the corresponding physical presence of particular paintings. Hodgkin says 'I am a representational painter, but not a painter of appearances, I paint representational pictures of emotional situations.'
Cézanne Portraits
26th October – 11th February 2018
This major exhibition will bring together over 50 of Cézanne's portraits from collections across the world for the first time, including works never before on public display in the UK.
These include the artist's arresting Self Portrait in a Bowler Hat (1885-6) on loan from the Ny Carlsberg Glyptotek gallery in Copenhagen. Also on UK display for the first time since the 1930s will be Boy in a Red Waistcoat(1888-90), one of aseries of paintings of a young man in Italian clothes identified as Michelangelo de Rosa, from the National Gallery of Art, Washington DC, and Madame Cézanne in a Yellow Chair (1888-90) on loan from The Art Institute of Chicago, last exhibited in London in 1936 and 1939 respectively.
Natural History Museum
The re-opening of Hintze Hall
Summer 2017
NHM will open the new, reimagined Hintze Hall this summer complete with a full, blue whale skeleton diving through the heart of the Museum. This new installation will lay bare the relationship between humans and the natural world. Driven to the brink of extinction by hunting, the blue whale was the first species humans made the decision to save. It tells a story of hope.
Joining the blue whale will be hundreds of unseen specimens spread across three floors. This is the first step in a decade of transformation for the Museum, focusing on human relationships with the natural world, today and for the future. Details
Whales: Beneath the surface
14th July – October 2017
A  new family exhibition explores the remarkable bodies of the largest creatures to have lived on earth, and discover the unexpected likenesses humans share with them.
From huge complete skeletons, to flippers, skulls and jawbones, Whales will take visitors closer to the biology and behaviour of one of the planet's most enigmatic creatures. The exhibition will also include immersive sounds and senses, interactive displays and models of other cetaceans.
Horse Show
16th July
National Museum of Rural Life
One of Scotland's biggest heavy horse shows takes place at the National Museum of Rural Life with more than 150 horses competing in a range of events including 'Clydesdale Ridden' and 'Turnout' (riding with carriages). Family-centred events continue  with pony rides on the farm and craft workshops in the museum. Details.
Norwich Castle Museum & Art Gallery
Nelson and Norfolk
29th July – 1st October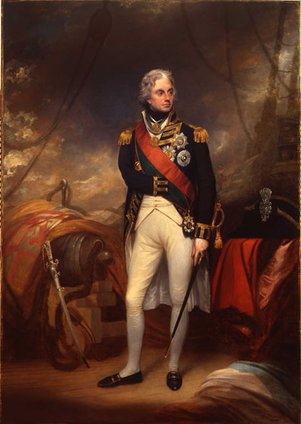 Admiral Lord Admiral Nelson 1801 by William Beechey (1753 - 1830) copyright Norfolk Museum Service This major exhibition will gather together some of the most important and potent objects connected to Admiral Lord Nelson, reflecting his naval victories, his relationships and above all his affection for his native county of Norfolk.
It will examine Nelson's reputation and the extraordinary way in which his life and achievements were commemorated at the time of his death and have continued to exert a powerful fascination in the two hundred years since. His symbolic importance to the country and the nature of his 'Immortal' memory will be a central theme.
Among the significant objects on display will be the black velvet drape from his funeral car, a uniform worn by a Greenwich Volunteer who guarded Nelson's coffin during his two-day lying-in-state, a model of the funeral barge made by a French prisoner of war at Norman Cross and extensive Nelson funeral memorabilia. The most iconic portrait of Nelson painted by William Beechey in 1801 will form a centrepiece of the exhibition. Alongside these important artefacts from the Norfolk Museums Service collections – which have not been displayed together before – will be major loans from the National Maritime Museum, Greenwich.
Rembrandt: Lightening the Darkness
21st October  – 7th Jan 2018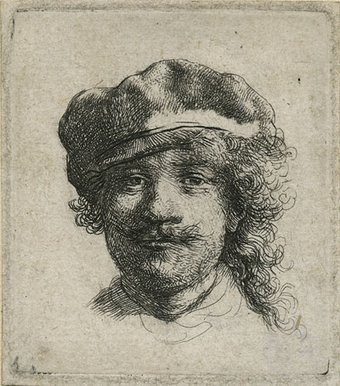 Self portrait wearing a soft hat, etching on paper c 1634. Copyright Norfolk Museum Service. This exhibition will showcase Rembrandt's explorations of light and darkness, through selected loans from the National Gallery, the Royal Collection, the British Museum and the National Galleries of Scotland, together with the Castle's extraordinary collection of 93 etchings by the great artist.
This exhibition will highlight this less well known aspect of his output, comparing prints with a selected group of paintings and drawings, to show how physical and metaphorical light and darkness meet and combine in Rembrandt's work in all media, creating narratives that communicate across time.
Titanic: Honour & Glory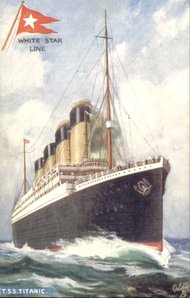 Titanic postcard courtesy of Titanic Honour and Glory 1st April – 24th September
Time and Tide Museum, Great Yarmouth
Titanic has become the most famous ocean liner in the world: from her conception to her premature demise, the Titanic legend continues. This touring exhibiton explores this famous ship, her sister ships and their owners, the White Star Line, as well as revealing the local links of some of its passengers. It features genuine artefacts from the Titanic and her sister ships, together with memorabilia and items from the Great Yarmouth Museums collections.
Only in England
21st October – 25th February 2018
This touring exhibition from the Science Museum/National Media Museum of photographs features work by renowned photographers, Tony Rae-Jones and Martin Parr. Fascinated by the eccentricities of English social customs, Tony Ray-Jones spent the latter half of the 1960s travelling across England, photographing what he saw as a disappearing way of life. Humorous yet melancholy, these works had a profound influence on photographer Martin Parr.
New Olive Edis Gallery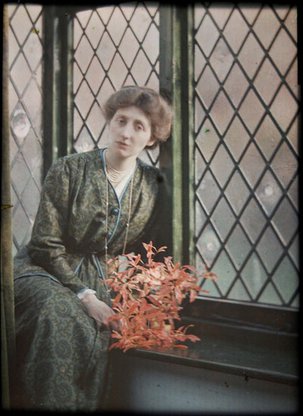 Self portrait by Olive Edis March 2017
Cromer Museum
March sees the opening of a permanent gallery at Cromer Museum exploring and celebrating the life of photographer, Olive Edis, one of the most important
photographers of the early 20th century. At the height of her career she photographed the full spectrum of British society, from local fishermen and their families to prime ministers, royalty, scientists and artists. She was an exceptional portrait artist, a pioneer of new technologies, a successful business owner, and the first British woman to be appointed as an official war photographer.
Edis died in 1955, leaving the contents of her studio to her assistant Cyril Nunn who cared for the collection until it was acquired by Cromer Museum in 2008. In the 60 years since her death Edis has been largely forgotten by history, and her huge contribution to British photography sadly overlooked. Thanks to a grant from the Heritage Lottery Fund, the Olive Edis Project at Cromer Museum aims to raise awareness of Edis' work and give her inspirational story the recognition it deserves.
The project includes the new permanent display at Cromer Museum complete with a digital archive of her photographs to enable visitors to explore this remarkable woman's legacy, plus a touring exhibition, The Road to Ypres: The War Photography of Olive Edis focusing on the unique collection of photographstaken by Edis during her month long tour of war-torn Europe in March 1919.
New Collections Gallery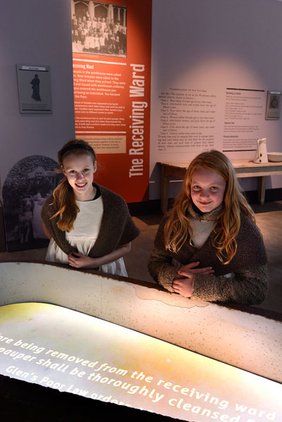 Voices from the workhouse. Courtesy of Norfolk Museum Service Spring 2017
Gressenhall Farm & Workhouse
In spring 2017 the final stage of the Heritage Lottery Fund supported Voices from the Workhouse comes to fruition with the opening of the newly displayed Collections Gallery. This £1.8m project has seen the complete redevelopment and redisplay of Gressenhall's Grade II listed Georgian workhouse and nationally important workhouse collection, the largest of its kind in the country.
Based on extensive research of the workhouse archives, the Voices project has re-focused the galleries on the real stories of the people who lived and worked at Gressenhall. These stories are brought to life through innovative design elements to give visitors a vivid impression of what life in the workhouse was like. These include sophisticated projections which allow visitors to 'meet' real people from the workhouse's past, evocative room recreations and authentically produced reproductions, beautifully lit artefacts and sculptures of real people associated with the workhouse – based on descendants' photographs. For the first time, these rare collections are made fully accessible to all our audiences. The displays challenge misconceptions about life in the workhouse and open up debate, inviting visitors to reflect on connections between the past and issues facing society today.
Oxford University Museums Partnership
Raphael: The Drawings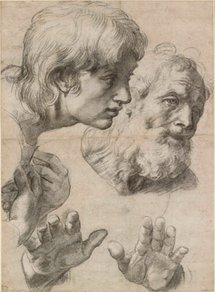 Two apostles. Courtesy of the Ashmolean Museum, University of Oxford. 1st  June – 3rd September
Ashmolean
Raphael: The Drawings brings together over a hundred works by Raphael from international collections. The selection of works encompasses the artist's entire career from his early years in Umbria to the period when he was at the height of his powers in Florence and Rome. It includes major projects such as the Vatican frescoes and will explore his visual language from sketchy ideas to full compositions.
With an emphasis on Raphael's restless imagination evident in his drawings, this exhibition showcases new research on a core group of drawings following technical investigation by the Ashmolean's Conservation Department.
Brain Diaries – Modern Neuroscience in Action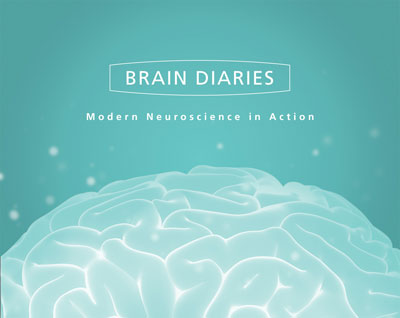 10th – 1st January 2018
Oxford University Museum of Natural History
Throughout  life, brains undergo extraordinary changes. With billions of neurons and trillions of connections, each brain responds to its experiences to shape each individual
The nine month long Brain Diaries exhibition and event programme reveal how the latest neuroscience is transforming what we know about our brains, from birth to the end of life.
The work has been developed with help from over 50 neuroscientists from the University of Oxford. It features specimens from the museum's collections, digital interactives, and video contributions from neuroscientists. Brain Diaries will give visitors an insight into some current understandings from the rapidly developing field of neuroscience. Details.
NeuroNight
 12th May, 7-10pm
Oxford University Museum of Natural History
Visitors are invited to feed their brains with a host of mind-expanding neuroscience goodness. Laughing Yoga, Neuro Cocktails, brain scientists, and live music. Late night special. Details. Part of the Brain Diaries events programme running to January 2018. Details.
Portsmouth Historic Dockyard
 Women and the Royal Navy: Pioneers to Professionals
From 18th February
National Museum of the Royal Navy
This exhibition marks the centenary year of the formation of the Women's Royal Naval Service (WRNS). It tells the stories of naval women. and celebrate women's contribution to the naval services for the last 250 years. It will feature objects that illustrate the stories of early 17th century pioneers who disguised themselves as men or accompanied their husbands to sea, to the first professionals in the Naval Nursing Service and WRNS up until today. Details
Accession of objects belonging to Captain Eric 'Winkle' Brown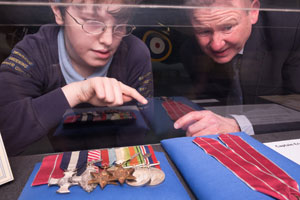 Eachan Hardie and NMRN's curator of aircraft. Courtesy of NMRN later in 2017
The determined efforts of 11-year Eachan Hardie led to a campaign to keep the medals and logbook of test pilot extraordinaire Captain Eric "Winkle" Brown in the country when news broke that they were to be auctioned following Captain Brown's death at 97. An intervention by an extremely generous, anonymous donor allowed the collection to be purchased for display at The National Museum of the Royal Navy's Fleet Air Arm Museum. The collection will go on permanent display later in 2017.
Escape Rooms
Explosion Museum of Naval Firepower

The historic buildings of The National Museum of the Royal Navy's Explosion Museum of Naval Firepower in Gosport have inspired an exciting new attraction which tests visitors' ability to solve puzzles and crack codes within an hour's time limit. The new escape room, Explosive Escape, is located in the historic C magazine building. Set in 1940, teams are tasked with finding and disarming a bomb planted by enemies. But they can only do this by solving numerous puzzles. Details
RAF Museum
Cosford Food Festival
22nd - 23rd July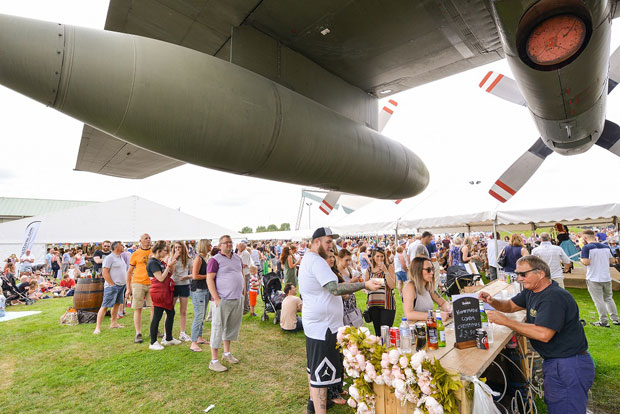 The Food Festival at RAF Museum Cosford
The RAF Museum Cosford offers the finest artisan food and drink from over 90 local producers. Visitors will learn from top chefs during cooking demonstrations, including a chef from the RAF and feast on street food with flavours from around the world.  There's also a chance to enjoy a glass of fizz from the Prosecco and cocktail bar or one of the many local beers, ciders and spirits whilst listening to the live music, including performances from the Military Wives Choir.
Conservation Centre Open Week
13 – 18th November



Handley Page Hampden sections in Line The Michael Beetham Conservation Centre at the RAF Museum Cosford will be opening its doors, allowing Museum visitors behind the scenes access to aircraft conservation projects and the chance to speak with the team who make them happen.  Current projects include the Vickers Wellington and the Handley Page Hampden.
Royal Albert Memorial Museum
Sea Life: Glimpses of the Wonderful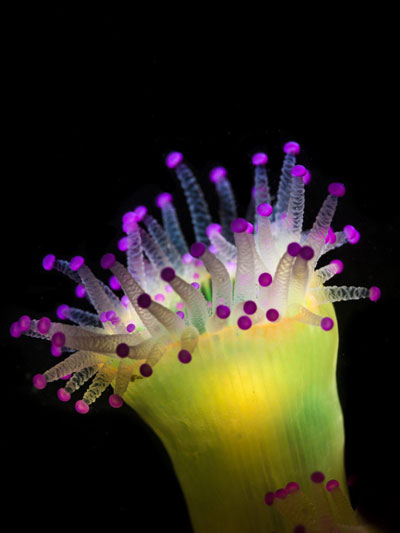 Anenome Dan Bolt underwater photography 13th May – 17th September
Victorians were fascinated by aquatic life after it was popularised by pioneer marine biologist Philip Henry Gosse following his investigation and illustration of Devon's coastal life. The exhibition embraces the study of the seashore in the early Victorian period, the invention of the aquarium and advances in marine science, through to the current day with the work of contemporary artists who have sought inspiration from marine life. With a mixture of historic objects, specimens and contemporary works, the exhibition combines science and art to inspire greater appreciation of Devon's glorious coastline by visitors of all ages.
A Victorian-style aquarium is stocked with British shallow water marine creatures collected from the local area. Vistors will experience under sea life up close and learn about our role in protecting the marine environment. Contemporary artists have sought inspiration from marine life, including Danish artist Steffen Dam who has created glass jars containing imaginary sea creatures.     
A busy programme of activities and events includes Science at the Seaside, Rockpool Safari, Under the Sea theatre, the Wonderful World of Seaweed, the Good the Bad and the Slimy, Curious Coastal Creatures and Our Current Biodiversity Crisis.
Seaton Down Hoard Weekend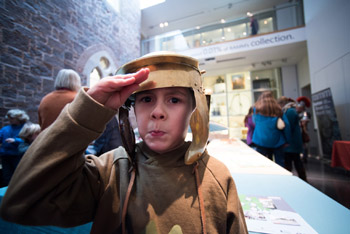 Child at a Seaton Hoard event. Photography: Matt Austin 22nd – 23rd April
Saturday: A chance for visitors to show archaeological finds to an expert and to talk to metal detectorists. The first day of RAMM's special weekend is an opportunity to explore the Seaton Down Hoard and other finds discovered by metal detectorists.
Sunday: Coin Conservation: Visitors can meet museum conservator Sarah Klopf and watch her conserving coins from the Seaton Down Hoard, explore the coins close up and take part in family-friendly conservation activities.
Discovered in 2013, the Seaton Down Hoard is the largest Roman coin hoard ever found in Devon and the third largest nationally. RAMM purchased the hoard with the support of Patrick and Sally Long, Clinton Devon Estates, Devon County Council, Thomson Reuters and the hundreds of private donors. RAMM is sharing the Hoard with Devon through a busy programme that includes a special roadshow visiting schools and community groups, talks, tours, conservation workshops and public events at RAMM. The programme culminates in an exhibition at RAMM in July 2017 featuring the entire hoard.
Science Museum
Robots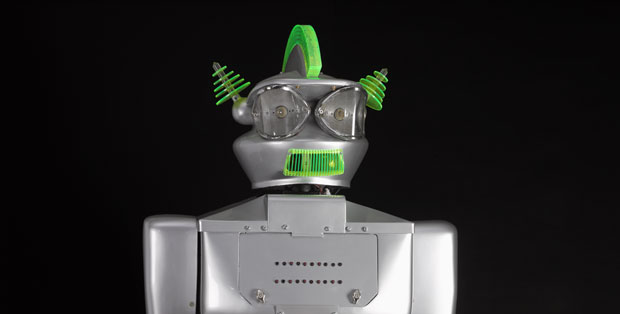 Cygan, a robot built in Italy in 1957. Part of the Science Museum's Robots exhibition.
8th February – 3rd September 2017
Throughout history, artists and scientists have sought to understand what it means to be human. The Science Museum's new Robots exhibition, opening in February 2017, will explore this very human obsession to recreate ourselves, revealing the remarkable 500-year story of humanoid robots. Featuring a unique collection of over 100 robots, from a 16th -century mechanical monk to robots from science fiction and modern-day research labs, this exhibition will enable visitors to discover the cultural, historical and technological context of humanoid robots. A unique event series will run alongside the exhibition, from classic sci-fi film marathons to a quiz show with a robot host.  Details
Mathematics: The Winton Gallery

On 8th December 2016 the Science Museum opened an inspirational new permanent mathematics gallery, designed by Zaha Hadid Architects. Bringing together remarkable stories, historical artefacts and design, Mathematics: The Winton Gallery highlights the central role of mathematical practice in all our lives, and explores how mathematicians, their tools and ideas have helped build the modern world over the past four centuries.  Details
Tyne and Wear Archives & Museums
Companion Pieces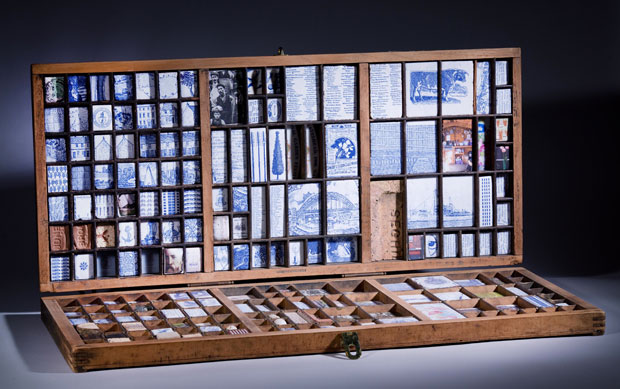 Companion Pieces, Gateshead in a Box by Paul Scott
18th February – 31st December
The Shipley Art Gallery
To celebrate 100 years since the Gallery doors opened to the public to present the Shipley's bequest collection and 40 years since the first items were purchased to build the now nationally important contemporary craft collection, the Shipley Art Gallery presents a new showcase exhibition. Companion Pieces brings together different parts of the collection: themes include Adam and Eve, the Body Beautiful, Visions of Gateshead, the Japanese Connection and Morals and Politics. Details
Bones: Skeleton Secrets of the Animal World
4th February – 14th May
Great North Museum: Hancock
Why can't humans fly like a bird, or leap as far as a frog? The animal world is full of questions and bones offer many of the answers. From bats to whales, bones are the hidden keys to how animals move, survive and evolve over time. The museum offers an interactive journey through land, air and ocean exploring real bones, teeth and fossils from over 100 creatures. Details
Modern Visionaries: Van Dyck and the Artists' Eye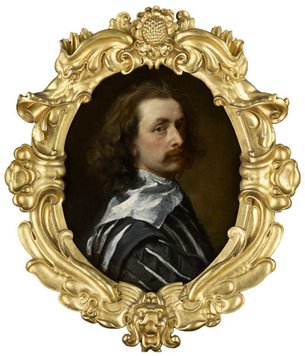 28th January – 4th June
Laing Art Gallery
Inspired by the remarkably innovative style of Sir Anthony van Dyck's last self-portrait, acquired for the nation in 2014, this exhibition pairs the painting with stunning works by major artists of the 20th and 21st century including David Bomberg, Francis Bacon and L.S. Lowry, Sarah Lucas, Chris Ofili, and Jane & Louise Wilson.
The portrait was acquired by the National Portrait Gallery following a public appeal and appears with other works from NPG alongside Laing's own collections. Details
Hadrian's Cavalry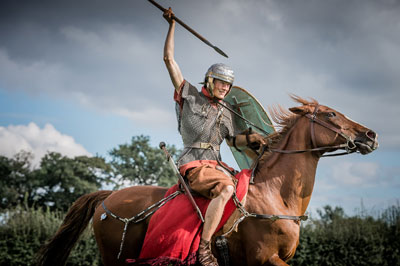 8th April – 10th September 2017
Arbeia Roman Fort, Great North Museum: Hancock and Segedunum Roman Fort
Three Tyneside venues feature in 2017's blockbuster Hadrian's Cavalry exhibition which stretches the entire length of Hadrian's Wall. Arbeia Roman Fort is used to convey what current archaeology tells us about the Roman cavalry. At Newcastle's Great North Museum, two Ribchester helmets reveal the power of the cavalryman's mask. In Wallsend, Segedunum Roman Fort hosts the biggest of the three Tyneside exhibitions, exploring the cavalry's elite status as troops and their skill as horsemen. Details
Hatton Gallery launch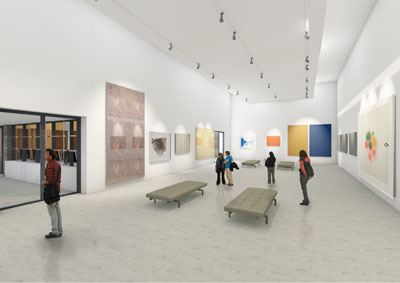 Mock up of the new gallery space October 2017
The Hatton Gallery will reopen in October 2017 following a £3.8 million redevelopment. It  will be a vibrant and modern exhibition space offering a new era for art and learning in the city. The Hatton Gallery has been at the heart of cultural life in the North East since the early 20th century. It has had a dynamic and illustrious history, which is unique because of its relationship as part of one of the oldest art schools in the English regions, Newcastle Fine Art School. Details
University of Cambridge Museums
Madonnas and Miracles: the Holy Home in Renaissance Italy
7th March - 4th June
The Fitzwilliam Museum
A major new exhibition that reveals the central place of religion in the Italian Renaissance home. Opening in Spring 2017, 'Madonnas and Miracles' will show how religious beliefs and practices were embedded in every aspect of domestic life. Challenging the idea of the Renaissance as a time of increasing worldliness and secularisation, the exhibition will show how the period's intense engagement with material things went hand in hand with its devotional life. Details.
V&A
The Pink Floyd Exhibition: Their Mortal Remains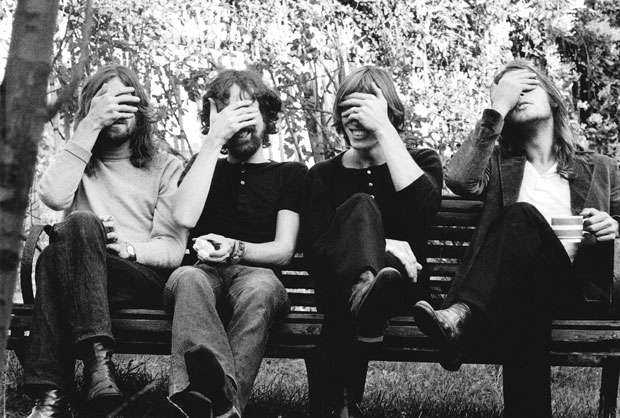 Hands over eyes c. Pink Floyd Music Ltd photo by Storm Thorgerson/Aubrey 'Po' Powell 1971 Belsize Park
13th May – 1st October
To mark 50 years since the band released their first single Arnold Layne, and over 200 million record sales later, this exhibition will be an immersive, multi-sensory and theatrical journey through Pink Floyd's extraordinary world. A story of sound, design and performance, the exhibition will chronicle the music, iconic visuals and staging of the band, from the underground psychedelic scene in 1960s London to the present day, illustrating their ground-breaking use of special effects, sonic experimentation, powerful imagery and social commentary. Marking the first collaboration in decades of Pink Floyd's remaining members, it will feature artefacts including never-before-seen material, presented alongside works from the V&A's outstanding collections of art, design, architecture and performance. Highlights will include spectacular set and construction pieces from some of Pink Floyd's most innovative and legendary album covers and stage performances including The Dark Side of the Moon, The Wall and The Division Bell, instruments, music technology, original designs, architectural drawings, handwritten lyrics and psychedelic prints and posters.
Plywood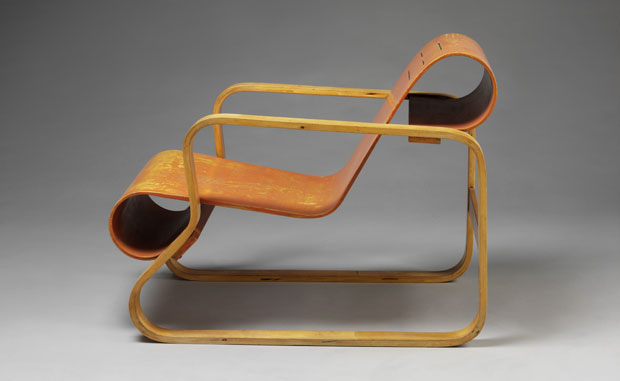 Alvar Aalto, armchair, Finland, 1930 Photograph. c Victoria and Albert Museum, London
15th July – 12th November
Plywood will be the first authoritative history of a material near universally used in industrial, domestic and architectural design, but which continues to be little understood or interpreted. The exhibition will explore the innovative use of plywood in objects ranging from aircraft, boats and vehicles to furniture, architecture and graphic design and offer a new view of this material, its methods of manufacture and history from ancient times to use in today's digital age as well. Highlights will include Charles and Ray Eames' designs for plywood furniture as well as projects such as their 1942 moulded plywood leg splint designed for the US Navy, revolutionary European and American aircraft designs, 1930s surfboards and designs for mass-produced US prefabricated housing.
Opera: Passion, Power and Politics
30th September  – 25th February 2018
Together the V&A and the Royal Opera House will create a vivid and immersive journey through opera, from its origins in late-Renaissance Italy to the present day, in the inaugural exhibition of the new Sainsbury Gallery. The exhibition will focus on seven opera premieres, seven opening nights in seven distinct cultural landscapes, which culminate in the international explosion of opera in the 20th and 21st century. The exhibition will show how the creation of a new opera can reflect the social, political, artistic, and economic conversations, which define cities and will reveal the process of making opera from libretto to score, design to performance.
Winnie-the-Pooh: Exploring A Classic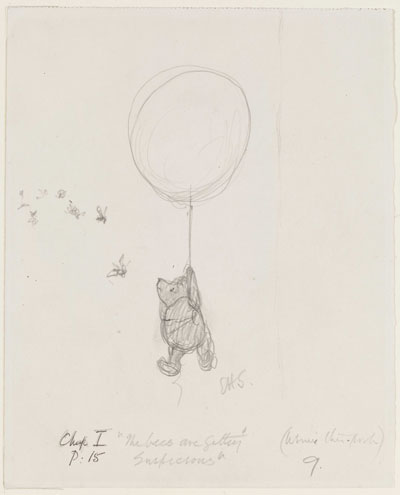 'The bees are getting suspicious', Winnie-the-Pooh chapter 1, pencil drawing by E. H. Shepard. c The Shepard Trust 16th December – 8th April 2018
This exhibition will reveal the story behind the creative partnership of A.A. Milne and E.H. Shepard and the factors contributing to the success and enduring popularity of Winnie-the-Pooh. It is designed for both children and adults encouraging visitors to rediscover the classic books and will look at discovering language as a child, as well as inspiring creativity with drawing. It will consider the real-life personalities and relationships that created Pooh, including Christopher Robin's make-believe with his toys and the collaboration between the genius of Milne as author and Shepard as talented illustrator. The original manuscript of Winnie-the-Pooh from the Wren Library at Trinity College will be on display for the first time at the V&A.
Wallace Collection
Concert: 'Composers and Writers as Portraitists'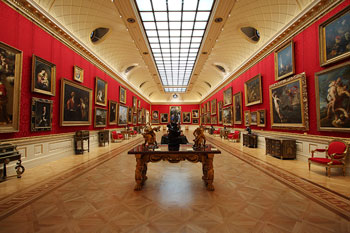 The Great Gallery. Courtesy of the Wallace Collection. 10th March

The Wallace Collection is hosting a concert where words and music become paint and canvas. Pianist and broadcaster Iain Burnside explores composers and writers as portraitists, to include music by Couperin, Schumann, Poulenc and Hahn. Romanian pianist Mihai Ritivoiu (a City Music Foundation artist). Acclaimed baritone William Dazeley will join Iain for an evening to complement and enhance the theme of portraiture. The Sky Arts Portrait Artist of the Year exhibition remains open prior to the concert as does the Wallace Collection café/bar.' Details
Gilded Interiors: French Masterpieces of Gilt Bronze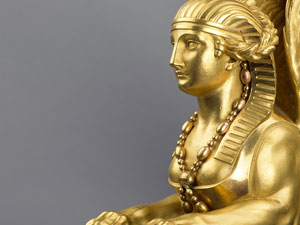 Courtesy of the Wallace Collection. 4th May – 9th July 2017

Gilded surfaces were important elements of eighteenth-century Parisian interiors and gilt-bronze objects of exquisite refinement epitomised the levels of luxury achieved by wealthy patrons. Objects of great beauty and stunning craftsmanship, they included clocks, candelabra, firedogs and mounts for porcelain, marble and furniture. By displaying star pieces of gilt bronze from the Wallace Collection alongside accomplished architectural drawings by one of the foremost architects and interior designers of his day, Pierre-Adrien Pâris (1745 - 1819), this exhibition will showcase the ravishing beauty of these sculpted objects and shed light on the sources from which they were derived.
York Museums Trust
 Vikings: rediscovering the legend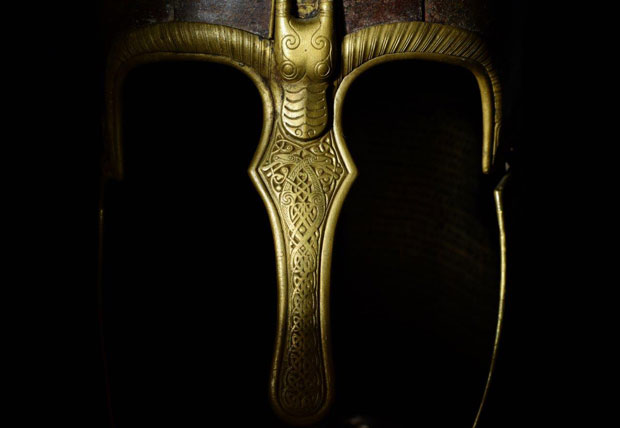 York helmet detail by Anthony Chappel Ross
In partnership with the British Museum
May 19th – November 5th
Yorkshire Museum
Two of the most significant and internationally recognised collections of Viking Age treasure in Britain will be brought together for the first time at the Yorkshire Museum in 2017.  The exhibition will explore how the Vikings transformed life in Britain, and features some of the most exciting finds to have been made. Star objects from the British Museum will feature alongside the Yorkshire Museum's world class collections and will be interpreted in new ways to give a fresh perspective on how Vikings shaped every aspect of life in Britain. It will also feature new research by archaeologists and new discoveries by metal-detectorists which challenge perceptions of what it meant to be Viking. Opening at the Yorkshire Museum, the exhibition will then tour to the University of Nottingham Museum, The Atkinson, Southport, Aberdeen Art Gallery and Norwich Castle Museum. Details
Chocolate: York's Sweet Past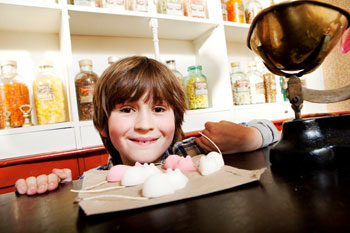 April 1st – January 5th 2018
York Castle Museum
This exhibition explores some of the world's most iconic chocolates and sweets, describing how the Georgians, Victorians and the Jacobeans satisfied their sweet tooth.
It features a sweet making machine in the Toy Gallery and a working Chocolate Factory which reflects what it was like to work in York's famous factories. Events accompanying the exhibition include tasting sessions and expert workshops. The Swinging Sixties gallery describes our more recent relationship with confectionary.  The show features original adverts and packaging alongside the stories of those who took York's life-long love of confectionary to the world in this family-friendly, interactive tour through York's history of chocolate and sweets.
Picasso: ceramics from the Attenborough Collection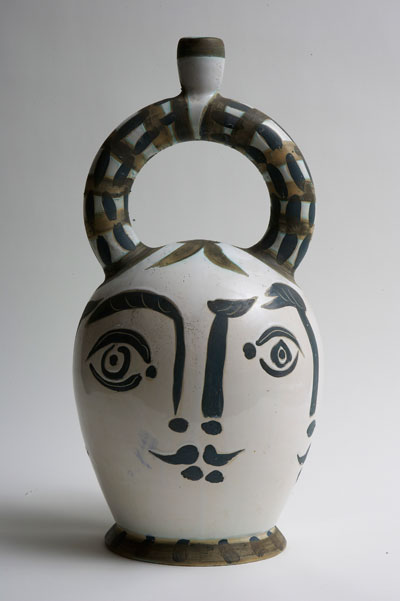 Heads of women Aztec Vase by Pablo Picasso. Courtesy of the Estate of Lord and Lady Attenborough 28th July – 5th November
York Art Gallery
York Art Gallery presents highlights from the most significant private collection of Picasso ceramics in the UK.
Picasso had always taken an interest in earthenware but it wasn't until 1946, at the age of 65, that he dedicated his work exclusively to ceramics, seeing it as his return to the origins of art. He produced over 2800 pieces in total.
Lord and Lady Attenborough began acquiring his work in 1954 and continued to do so for over 50 years. Highlights, featuring Picasso's unique and final masterpieces, will be presented in the Centre of Ceramic Art (CoCA) surrounded by examples of ceramic work by British artists working during the 20th century. Loans are from the New Walk Museum and Art Gallery, Leicester, by kind permission of the Estate of Lord and Lady Attenborough.